FDNY EMTs robbed at gunpoint responding to fake 911 call; 2nd case this week
The two EMTs were responding to a report of someone having a seizure when a man pulled a gun on them in an elevator
---
Thomas Tracy
New York Daily News
NEW YORK — Two FDNY emergency medical technicians were robbed at gunpoint after racing to a bogus medical emergency in a Brooklyn NYCHA building early Saturday.
The 2:40 a.m. robbery is the second time in a week that EMTs have been robbed during a fraud 911 call, officials said.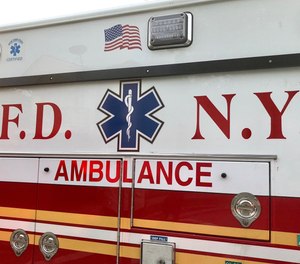 The EMTs, ages 25 and 23, were responding to a report of someone having a seizure in a sixth floor apartment on Frost St. near Morgan Ave. — part of the Cooper Park Houses in East Williamsburg — when a hulking 6-foot-2 man pulled a gun on them in the building's elevator.
"Give me your radios and bags," the gunman ordered, according to police.
The EMTs handed the equipment over and the gunman hit every floor button on the elevator before jumping out, preventing emergency responders from following him.
There were no injuries.
When the EMTs arrived at the sixth floor apartment, no one was having a medical emergency.
Saturday's heist was hauntingly similar to Monday's 11 p.m. robbery of two Brooklyn EMTs working for Kingsbrook Jewish Medical Center.
The EMTs, a 28-year-old woman and a 46-year-old man, were in the elevator of a Sackman St. building near Belmont Ave. — part of the Seth Low Houses in Brownsville — responding to a call about someone having difficulty breathing when a man in the elevator hit the emergency stop between the 10th and 11th floors and took their equipment, cops said.
Their medical bags were found in the building a short time later but their radios and tablets were gone, officials said.
The difficulty breathing call also turned out to be bogus, said officials.
Cops currently have no evidence linking these two incidents together.
Since Monday, the FDNY has told its employees to be on guard and practice "situational awareness" when responding to 911 calls.
___
(c)2020 New York Daily News
McClatchy-Tribune News Service