Baltimore firefighter shot in face with air pellet gun while on medical call
A second firefighter who was exiting the apparatus was struck by the suspect's vehicle
---
By FireRescue1 Staff
BALTIMORE — While responding to a medical call, Baltimore firefighters were attacked by a man with a pellet gun, with one firefighter taking a shot to the face, CBS News Baltimore reported.
Members of the Baltimore Fire Department were in an apparatus responding to a medical call at a residence when a man pulled up in a vehicle and began firing on the responders. One firefighter was hit in the face, prompting another firefighter to exit the apparatus. That firefighter was then struck by the suspect's vehicle.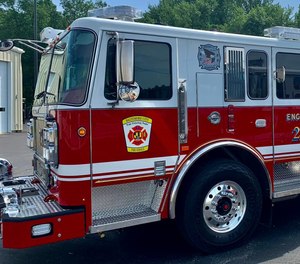 "A car basically drove up by them and basically began firing what we call an air pellet gun," Assistant Chief Roman Clark said. "One of the other members who actually got out of the vehicle was struck by the car on his arm."
The incident was called a "senseless act of violence" by Mayor Brandon Scott.
"Our firefighters and EMTs are dedicated to the people of Baltimore when they need lifesaving assistance," he said. "Despite tonight's senseless incident both firefighters remain committed to serving the people of Baltimore. For someone to treat them in this manner displays an unimaginable disregard for the safety and well-being of public servants who regularly place their lives on the line for others."
Fire Chief Niles R. Ford said the department is committed to the protection of its members.
"Our members continue to work tirelessly to help those in need within our community and this isolated incident will not alter the way we render care," he said. "Our first responders made a commitment to care for residents and visitors within the City of Baltimore, and I am committed to their safety and will work alongside Mayor Brandon M. Scott to focus on the safety of all BCFD members and First Responders."