Why pretending around your kids is the toughest part of the job
Some days I have to lie; I can't risk exposing them to the worst of the sights and sounds we experience
---
By Aryeh Myers
It started with a tough call and what I thought was a simple tweet:
Some days we see scenes I wish I could unsee, and hear sounds I wish I could unhear. Today is one of those days. #EMS

— InsomniacMedic (@InsomniacMedic) January 25, 2015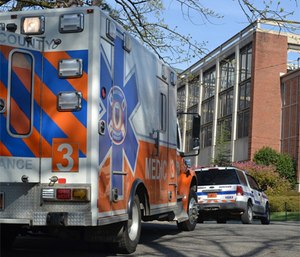 Many agreed.
That simple message was followed several hours later at the end of the shift by another:
Sometimes the toughest part of this job is arriving back home and pretending to your kids that all is well with the world #EMS #paramedic

— InsomniacMedic (@InsomniacMedic) January 25, 2015
This second tweet fast became the most popular tweet in the five years that the @InsomniacMedic account has been alive. I'm not talking viral, far from it, but almost one hundred people felt it was important enough to retweet to their own followers.
From my children's point of view, my life as a paramedic isn't just what I do as a job; it also defines who I am. So much so, that many of my kids' friends know their dad as the "ambulance driver" (no, I don't get offended – there's work to be done in the field of recognition), and so much so that the youngest has been saying for years already that when he grows up, he wants to be a paramedic too. (Or perhaps a builder, but only if that involves Legos.) It's unusual to hear. We're used to hearing children say that they want to be doctors, nurses, firefighters, train drivers, pilots, even teachers sometimes, but to hear a child say that they want to be a paramedic is rare.
And they are genuinely interested. Most days, when my children see me after a shift, the first question is "What was the hardest thing you did today?" closely followed by "And what was the easiest?" More often than not, I'll answer them honestly. They're used to hearing about heart attacks, car accidents, breathing problems, new babies being born, even resuscitation attempts, successful or otherwise. Most of these, I don't feel, need to be hidden from them.
Some days, however, I have to lie.
I can't risk exposing them to the worst of the sights and sounds we experience. These are the days when I know that there are sights I wish I didn't see, and sounds I wish I didn't hear. These are the days when I know that the delete button we all search for in our minds goes missing. These are the days when despite years of experience, of calls, of patients, of lives and deaths, these are the days when I know that my sleep will be troubled and my dreams disturbed.
But even, in fact especially for these cases, it is vital that there is an outlet, and this time I chose Twitter - a worldwide network of support, 24 hours a day, 7 days a week. The office is always open somewhere, it's always working hours in one part of the world or another, even for those of us who work shifts. Just the knowledge that there is someone else out there, someone who may not know me, but someone who understands, someone who can share the burden without me risking placing that burden on those too close, too young, and too innocent for reality.