Veteran EMT Support Act signed into law
Trained military medics will be put on an accelerated track to receive state EMT certification and licensure
---
WASHINGTON — New legislation will help military veterans with medic training to transition into the civilian workforce, helping to address a shortage of EMTs.
The Veteran Emergency Medical Technician Act of 2016, H.R. 1818, was signed into law with the Comprehensive Addiction and Recovery Act (CARA) in late July.
The bill was a key priority of the National Association of Emergency Medical Technicians, who will help create a transition program for trained military medics to meet state EMT certification and licensure requirements.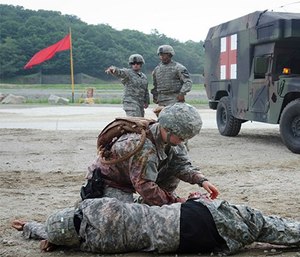 "The Veterans EMT Support Act is an important step forward to help veterans in their transition back to civilian life, while improving emergency care in our communities," said Rep. Lois Capps, D-California one of the officials who introduced the bill. "These heroes have proven their skills on the battlefield. It is only right that we break down any artificial barriers that delay or prevent them from serving our communities here at home."
CARA aims to address the growing opioid addiction epidemic by authorizing nearly $900 million over the next five years to support education, prevention and law enforcement efforts.
The bill was formally signed into law on July 23.