Paramedics and EMTs celebrated as unsung heroes
The American Ambulance Association recognizes 103 EMS providers from 29 states as 'Stars of Life'
---
WASHINGTON — The American Ambulance Association is honoring 103 "Stars of Life" from 90 communities in 29 states across the country – plus Trinidad & Tobago – for their selfless acts as EMS professionals.
Ceremonies, to be held in Washington, D.C., on Monday and Tuesday will include recognition for these EMS providers: 
Paramedics who responded to the San Bernardino terrorist attack.
An Advanced EMT who single-handily provided the initial triage to pedestrians hit by a woman who had driven her car on busy sidewalk along the Las Vegas Strip.      
An off-duty EMS director of operations who, upon learning no ambulances were available, left her family and responded to a call of an infant who was not breathing. Once on the scene, she performed CPR and intubated the baby before an ambulance was able to arrive. The baby survived.
A paramedic in Oklahoma who helped resolve a potentially deadly situation involving a friend who had barricaded himself in his house and threatened to kill himself.
A communications and dispatch technician who, while out grocery shopping, was pressed into duty and performed CPR on an elderly man in cardiac arrest, despite having had recent abdominal surgery and being told not to do any strenuous activity. The man survived.
A paramedic who responded to a tragic school bus accident in Kentucky where three children died and several were injured.
A paramedic who helped pull two passengers out of burning car and provided the initial treatment.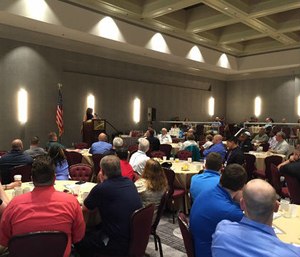 Eeach year the American Ambulance Association recognizes the dedication of ambulance services professionals who, day in and day out, serve their communities, often inconspicuously.
"Anytime someone dials 911 there are a number of highly trained professionals who respond and arrive to deliver excellent emergency medical and pre-hospital care," said Mike Hall, AAA president. "EMS professionals are extraordinary men and women who make a difference every day."
Past Stars of Life have included heroic individuals involved with the response to September 11th attacks, Hurricanes Katrina and Sandy, and other disasters. The AAA represents organizations serving more than 75 percent of the U.S. population with emergency and non-emergency care and medical transportation services.
The keynote speaker at this year's luncheon at the National Press Club will be Marc Creswell, operations manager of Air Med Services. He is responsible for the day-to-day operation of 10 helicopters and three fixed wing aircraft. Creswell has been involved in several large-scale rescues, including Hurricane Katrina and the Deepwater Horizon oil spill.
While in Washington, the "Stars" will meet with members of Congress, and key congressional aides to discuss legislative issues critical to all emergency medical service professionals, including ensuring that ambulance service providers receive fair Medicare and Medicaid reimbursement and that EMTs and paramedics at private companies receive the same benefits as provided to public safety officers who are employed by the federal or state and local governments.
Founded in 1979, the American Ambulance Association promotes health care policies that ensure excellence in the ambulance services industry and provides research, education and communications programs to enable its members to effectively address the needs of the communities they serve.