From part-time EMT to county EMS director
Kentucky paramedic favors EMS providers who care
---
Ask EMS providers about memorable calls, and you'll probably hear about messy trauma treated with high-risk diesel and lifesaving saline. That's not the kind of story Carlos Coyle wants to tell.
"I had a patient who was having a stroke," says the 52-year-old paramedic. "She was a young nurse who was getting ready to go to work one morning and had sudden onset of slurred speech and right-sided weakness.
"She was crying because she knew what was happening. I knew what was happening, too, but this was in '85 or '86, before we had any specialized stroke care. All we could do was put her on oxygen, start an IV and take her to the hospital.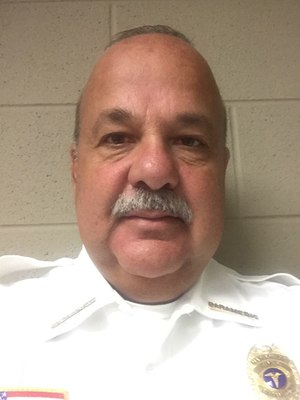 "I got into this business to help people. I had this mindset I could fix your problem. Well, I couldn't fix her problem. That was an eye-opening experience for a young paramedic."
Predisposed to serve
As Coyle continued to accumulate calls, he learned to put the bad ones in their place and embrace subtler aspects of EMS.
"Most of our patients don't know how well-trained or highly skilled you are," the Richmond, Ky. native says. "What they do know is how you responded to their emergency. Did you look professional? Did you give them a pillow and a blanket? Did you treat them and everyone else at the scene with respect?
"Sometimes it's not our diagnosis or skill set that makes a difference; it's holding their hand."
Some of us learn such lessons late, only after we realize our jobs are more about fine-tuning homeostasis than about cheating death. Coyle was ahead of that curve when he started as an Explorer in high school.
"I just had an interest in being a public servant," he recalls. "I thought I'd go into law enforcement, but then I joined the local ambulance and rescue squad and got my EMT through Eastern Kentucky University.
"I really wasn't thinking about becoming a paramedic. The further I got into EMS, though, the more I wanted to know about medicine."
Mentoring in Madison County
Coyle graduated from EKU's paramedic program in 1984 and continued to work for Madison County EMS, where he'd been a part-time EMT since 1982. He paid his dues on the streets for 20 years before becoming assistant director. In 2014, he was promoted to director.
"We do about 16,000 calls a year with a staff of 80," Coyle says of his 440-square-mile district with two hospitals and a population of 87,000. "I really enjoy the job and don't see myself doing anything else."
Part of that job, says Coyle, is to be a role model for young people who aren't sure what they want to do for a living.
"There's a shortage of paramedics in our state and probably across the country. We need to make sure we're utilizing our workers the best ways possible, but we also need to get more youngsters involved in EMS.
"You just never know when you're going to make that connection with someone who's trying to decide what career path they're going to take. We have to be seen; we have to tell people what we do because compared to law enforcement and the fire service, EMS is still very, very young."
Getting the right patient to the right hospital
Despite being the junior essential service, EMS is on a fast track, Coyle feels, with aggressive protocols trying to keep pace with new technology.
"The biggest change I've seen in recent years is the way we make decisions about where and how patients will be treated," says the 34-year veteran. "Sending major trauma to trauma centers, strokes to stroke centers and STEMIs to the cath lab is making a difference. People are walking out of those hospitals totally intact, thanks in part to EMS.
"That's especially true of our cardiac patients. We used to sit them in a corner of the ICU, let them have their heart attacks and hope they survived. Now we're taking them directly to the cath lab and they're going home the next day."
Remembering the basics
No matter how sophisticated EMS gets, Coyle advises caregivers who've worked more than a few years to never forget how they started.
"Remember your first day as an EMT? The same basic principles you had then — caring, being professional and treating the public with respect — are still more important than anything else you do in the field.
"We're the safety net of America. When everything else fails, people call 911 for an ambulance. They need our skills, but even more importantly, they want our compassion. We have to be there for them."