EMS on the Hill: The importance of political advocacy
Join NAEMT in Washington, D.C., to discuss change in EMS before congressional representatives
---
By Allison G. S. Knox, EMT-B, faculty member at American Military University
Emergency medical services are a critically important part of public safety, but its voice is not as loud as that of other healthcare entities, such as insurance providers, pharmaceutical companies and hospital networks. There needs to be considerably more support for EMS – both from those working in the profession as well as the general public.
One way to drive change is through political advocacy. It is imperative that emergency medical technicians (EMTs) and paramedics around the country actively engage with their political representatives to develop relevant policies that will have a positive impact on EMS agencies.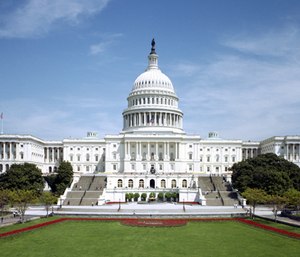 Getting involved in EMS advocacy
No one is more familiar with the needs of the EMS industry than EMTs and paramedics, so it's important that they actively advocate on behalf of their profession. In many cases, it can be difficult for congressional representatives and their staff to understand the day-to-day challenges EMS agencies face in pre-hospital patient care and a wide variety of administrative problems.
Considering how the American government system works, it is particularly important for advocacy initiatives to exist. The American government is comprised of congressional representatives who are elected to represent the needs of people within their given districts. This task is difficult, as congressional representatives are trying to incorporate the various – and often conflicting – policy wishes of constituents. 
It has long been hypothesized that the founding fathers did not specify how policy should be constructed because they wanted a system where the more important issues would rise to the surface, making it relatively easy to figure out what policies needed to be created.
As a result, pluralism arose, which is the concept that power should be dispersed among a variety of groups and not held by a single elite entity. This power is dispersed through special interest groups, which advocate to congressional representatives in an effort to influence policymaking. It is important that those in EMS engage in this process to ensure that their needs and concerns are heard by those in power.  
Join EMS on the Hill
One opportunity to advocate for change coming up rather quickly is the National Association of Emergency Medical Technicians' event, EMS on the Hill. This two-day event will take place on April 10 and 11, 2018.
EMS on the Hill will allow EMTs and paramedics to talk to members of Congress and their staff about important legislative initiatives that impact the profession. It's also an opportunity for those in EMS to learn more about legislative issues that could impact their future. 
Getting involved in this event is relatively easy. To attend, simply register through the National Registry of Emergency Medical Technicians. Individuals should also be in touch with their state advocacy coordinator to learn how they can stay politically involved year-round.
Those who work in EMS must continually advocate for the profession and make their needs known through political advocacy initiatives. Only through participation and advocacy will there be any meaningful change in EMS.
About the Author
Allison G. S. Knox is a faculty member at American Military University in the Emergency and Disaster Management Department. Her research interests are comprised of emergency management and emergency medical services policy issues. Prior to teaching, Allison worked in a level one trauma center emergency department and for a Member of Congress in Washington, D.C. She holds four Master of Arts degrees in emergency management, international relations, national security studies and history. Allison currently serves advocacy coordinator of Virginia for the National Association of Emergency Medical Technicians, Chapter Sponsor for the West Virginia Iota Chapter of Pi Gamma Mu International Honor Society and Faculty Advisor for the Political Science Scholars. She is also on the Board of Trustees and serves as Chancellor of the Southeast Region for Pi Gamma Mu International Honor Society in the Social Sciences. She can be reached at IPSauthor@apus.edu. For more articles featuring insight from industry experts, subscribe to In Public Safety's bi-monthly newsletter.