Book Excerpt: Blood, Sweat, Tears and Prayers (Part 2)
Chief Gary Ludwig gives a dramatic account of his long career as a paramedic and firefighter in the violent neighborhoods of St. Louis and Memphis
---
Editor's Note: Blood, Sweat, Tears, and Prayers: Firefighting and EMS from Some of the Toughest Streets in America, the first book by Chief Gary Ludwig, is a dramatic account of his 34 year career in two of the statistically most violent cities in the United States - St. Louis and Memphis. This excerpt of a tragic homicide is posted in two parts. Part 1 took the reader from the dispatch of the call to the ambulance. Part 2 continues the horrific call to the hospital and the lasting impact of this call on Chief Ludwig and his colleagues.
The paramedic put the ambulance in drive, turned on the siren, and headed to the hospital. The paramedic in the back of the ambulance with me called in a radio report to Children's Hospital to let them know we were en route, and to give the patient's condition. This allows the hospital to prepare for our arrival and get a team in place that will take over patient care from us. The voice on the other end of the radio acknowledged our transmission and let us know they would be ready.
By this point, the small child was struggling for life, and still unconscious. Her chances, along with her two sisters, weren't promising. Her breathing was obviously slowing; the only thing separating her from death was the bag-valve mask I hooked up to an oxygen tank. With every squeeze of the bag with my hand, the oxygen gas was pushed into her lungs. I gripped it tighter over her face to make sure no air could leak out.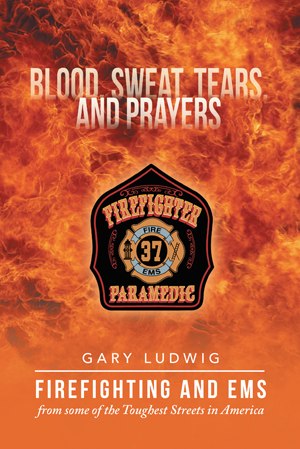 As we raced down one of the major streets of St. Louis, riding in the back of an ambulance is like an amusement ride—although there was nothing fun about this particular trip. The sensation is different. You have no visual of where you are going, and many times you find yourself rocking from side to side. You can only look out the back window and see where you've been. And if the person driving the ambulance suddenly slams on the brakes—and you can't see why he is slamming on the brakes—you immediately brace yourself for impact. Unfortunately, when you're working on a patient in the back of an ambulance, you're not wearing a seatbelt most times. You're either sitting on the bench seat, leaning over to treat the patient, or you're standing as the ambulance moves at speeds usually above 50 miles per hour. If the ambulance hits something and suddenly stops, you're still going 50 miles per hour or more. This usually isn't a good outcome for the paramedic standing, as he suddenly becomes a flying projectile. More than one paramedic has been killed or seriously injured this way.
We arrived at the hospital and removed the stretcher with the small, lifeless child, who still looked like my daughter. It was hard to look at her. The blood had now soaked through the bandage we'd secured to her head and continued to tinge her blonde hair ever more red. We headed inside the emergency department, all the time trying to ventilate the child who had now stopped breathing.
A nurse immediately met us at the door and directed us to Room 3. As we moved swiftly down the hall, I could see a team of doctors and nurses in Room 1 already working on the sister taken in the first ambulance. Unfortunately, they were doing CPR, which isn't a good prognosis.
A second team of dedicated doctors, nurses, and other technicians were waiting for us in Room 3. They all had donned gowns, gloves, and surgical masks, ready to do battle to save this girl's life.
We moved the girl from our stretcher to the hospital bed as I immediately rattled off a report for the doctor. "Four-year-old female, shot once in the head, no exit wound found, no other history that we know of, blood pressure is 80 palpable, pulse is 56, and respirations upon our arrival were 16 but she has now stopped breathing. The left pupil appears blown." The small girl was suddenly and completely surrounded by a team who would use everything they have learned and every piece of equipment they possess to save this poor, unfortunate girl's life.
The two paramedics and I grabbed our equipment and immediately left the room to give them space to work. Our job was done! Her outcome still remained in God's hands.
Tragically, none of these three little beautiful girls survived.
I finally learned their names in the newspaper the next day—Melissa, age 21 months; Danielle, age 4; and Crystal, age 7. Their mother's name was Lavenia Goree, and she was 25 years old.
It was Danielle with us in the back of the ambulance. What I didn't ever know was her favorite color, teddy bear, television show, or food. But I was at there at the end for Danielle; the most she ever did wrong in life was probably fight with her sister over a toy.
I also learned that her mother said on the 9-1-1 call that she didn't want to go back on welfare because she was concerned she couldn't continue caring for her children. She had no history of mental disease and took great care of the girls, according to neighbors, which included always dressing them in pretty dresses, and buying them treats when the ice cream truck came by. One neighbor said in a newspaper article the girls were "always well-dressed and well-fed and showed no signs of abuse."
Today, Danielle would have been about thirty-three years old. Chances are she would have had children of her own, and would be enjoying life. Her sisters would have had children, and they would play together. Unfortunately, that never happened. Instead, their mother was convicted of three counts of first degree murder without the possibility of parole.
The St. Louis community poured their hearts out to these three girls. People came forward and donated cemetery plots. Funeral homes and cemeteries offered caskets and other services for free. Churches offered to conduct religious services. The outpouring of support for three little girls that no one knew until their mother took their lives was overwhelming.
This job hardens you. If you took in all the pain and suffering we see it would just destroy you, so we try not to let it affect us. But every so often a call, like this one with the three little girls, just breaks your heart! These you never get rid of. This is one of the hardest calls of my career. The sights, the sounds, and the smell of the blood still haunt me. While everything at the time seemed to happen so fast, it also seems like I can relive it in slow motion. Paramedics who were on this call still vividly remember it 29 years later, and it torments them to this day. I was not the only one affected by this loss of innocence. Every paramedic and police officer on that scene experienced untold emotions. Paramedic Charlene Jansen still tells me how deeply she was affected by this call. Like me, she has seen far worse situations and terrible things in her career, but this was one of the worst for her. Another paramedic, Tim, visited the three girl's graves every year on the anniversary of their deaths, even though he wasn't on the call. And I know a nurse at Children's Hospital who worked on one of the little girls who never wore that set of hospital scrubs again. We carry many scars from the calls we have handled, and many times they are not physical scars.
---
Blood, Sweat, Tears, and Prayers: Firefighting and EMS from Some of the Toughest Streets in America
Lulu Publishing Services
Copyright © 2015 by Gary Ludwig
Available on Amazon and wherever books are sold.
About the Author
Gary Ludwig is recognized as a respected national fire and EMS author, public speaker, and consultant/expert who has managed two award-winning metropolitan EMS systems (Memphis and St. Louis). Chief Ludwig has over 37 years of fire, rescue and EMS experience - and over 35 years of experience as a paramedic. He currently serves as the fire chief of Champaign, Illinois and has a Master's of Science in Management and Business.