FDNY directs EMS to prep in advance of screenings of 'Joker'
Law enforcement and emergency services are on alert across the country due to talk of possible attacks at advanced screenings of 'Joker'
---
By Graham Rayman
New York Daily News
NEW YORK — The FDNY has issued a memo to its medics to warn them to be prepared in case of violence at screenings of "Joker."
The warning follows a directive by NYPD Chief of Patrol Rodney Harrison sending cops to stand posts at theaters showing the movie.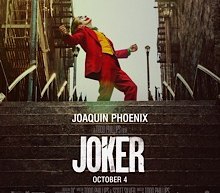 In the FDNY memo, EMS company officers were told to check their equipment, particularly ballistic plates, bungee cords and helmet visors, and also to train using emergency radios if necessary, and review medical protocols.
"Drill members on placement of tourniquets, bandages and chest seals," states the memo, distributed by the FDNY Counterterrorism Task Force.
The memo also orders a review on mass situations with multiple casualties.
"The online chatter is referencing 'a group,' the memo says. "Keep vigilant as there may be more than one assailant in the area (situational awareness). When moving through the warm zone, assailants may try to blend in as one of the victims in the attack."
A wave of concern has swept through law enforcement agencies in advance of the opening of the movie because of talk of possible attacks by mentally unbalanced people.
The U.S. Army also warned soldiers at Fort Sill in Oklahoma about chatter on the dark web.
The FBI also received tips of threatening posts on social media, according to ABC News, which cited a joint intelligence bulletin.
Threats have been circulating online for months but not directed at specific movie theaters or cities, authorities said.
The movie, set to open nationally Friday and in select theaters Thursday night, tells the origin story of the Joker, a villainous character from the "Batman" series.
After airing at the Venice Film Festival in August and nabbing the top prize, "Joker" was forced to confront a tragic period in the franchise's past. Family members of victims of the 2012 mass shooting at an Aurora, Colo., movie theater reached out to Warner Bros. to express fears that a movie centering on a murderous man in clown makeup might lead to a repeat incident.
Loved ones of the victims, 12 of which died in a screening of Christopher Nolan's "The Dark Knight Rises," urged the studio to donate to gun-victim organizations and advocate for gun reform.
"When we learned that Warner Bros. was releasing a movie called 'Joker' that presents the character as a protagonist with a sympathetic origin story, it gave us pause," read the letter, which was obtained by Variety. "As anyone who has ever seen a comic book movie can tell you: with great power comes great responsibility."
———
©2019 New York Daily News
McClatchy-Tribune News Service