3 EMS teaching tips to make a lecture an interactive learning experience
Paramedic and educator David Page uses activities that engage conference attendees with different learning styles
---
As an educator I am always trying to learn from other educators. I look for activities that I would like to replicate, as well as techniques to avoid. Educator, paramedic, and researcher David Page used many different activities during an interactive and informative session on the prehospital assessment of abdominal pain that I attended at the Wisconsin EMS Association Working Together conference.
Page used three techniques that I liked and plan to use in the future.
1. Sketch the structures of the abdomen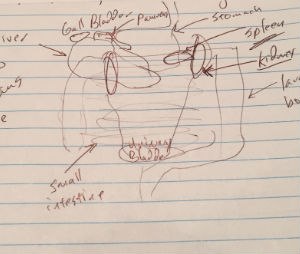 After discussing the abdominal emergencies that can kill patients fast, Page instructed us to each sketch the organs of the abdomen on a piece of paper. "Draw the structures that are in the abdominal cavity," he said.
As we drew, Page walked the room assessing our knowledge of abdominal anatomy. He used the intelligence he gained about our anatomical acumen to guide how much time to spend on the anatomy review portion of the presentation.
2. Make your own audience response pads
Page projected a patient's chief complaint and vital signs on the screen and instructed us to create our own audience response cards.
"Take two sheets of paper." He said. "On the first sheet write 'A' on one side and 'B' on the other side. Do the same for 'C' and 'D' on the second sheet."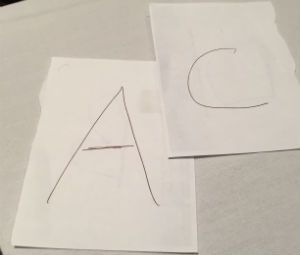 My low-tech audience response cards. (Image Greg Friese)
His next slide was four possible causes of the patient's abdominal pain complaint. "Hold up your 'A' card if you think this is appendicitis," said Page.
Seeing our responses for each of the causes guided the depth of additional explanation for this case-based learning activity.
3. Submit questions and comments by text message
In a large classroom packed with mostly strangers, questions are rarely asked. Page shared his Google Voice number with the audience and invited us to submit questions and comments by text message. This tactic removed the social pressure of not interrupting the presenter or potential perceived judgment from peers for asking a question.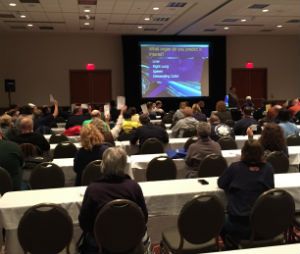 Voting with our audience response cards. (Image Greg Friese)
Periodically, Page looked at messages and answered questions. For example one of the text messages asked, "What does CEBBS mean?" This acronym had appeared on several of the patient case study slides.
"CEBBS means clear equal bilateral breath sounds," said Page as he launched the next patient case.
Learning never stops. What is a teaching technique you have learned in one of Page's education sessions or from another educator and then added to your repertoire?