Signed Patrick Mahomes fire helmet auctioned for fallen, injured first responder families
All proceeds from the auction will be donated to the funds set up for the families of two fallen and one injured Lubbock first responders
---
By Rachel Engel
LUBBOCK, Texas — The signature of Kansas City Chiefs' quarterback Patrick Mahomes has generated thousands of dollars at auction for two fallen and one injured first responders.
A Lubbock Fire Rescue (LFR) helmet signed by Mahomes is being auctioned off on eBay.com to benefit the families of Lubbock Police Department Officer Nicholas Reyna and LFR Lt.-Paramedic Eric Hill, who were killed in a roadway crash on Jan. 11, as well as injured Firefighter-Paramedic Matt Dawson, who was critically injured in the incident, FOX 4 KC reported.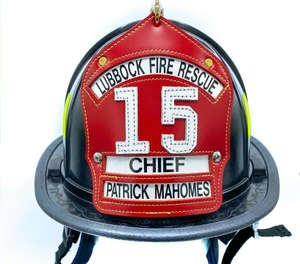 Mahomes teamed up with McGavock Nissan in Lubbock to donate the signed helmet for the auction.
Bidding started at $500 on Thursday and was paused on Friday afternoon after reaching a bid of $12,200. The auction will resume on Monday, according to a Facebook post by McGavock Nissan.