Fired Ga. police sergeant accused of killing paramedic seeks trial venue change
Lawyers for William Talley argue he cannot get a fair trial in Muscogee County due to the publicity and outrage surrounding the case
---
Tim Chitwood
Columbus Ledger-Enquirer
COLUMBUS, Ga. — The fired Columbus police sergeant accused of killing the paramedic with whom he was having an extramarital affair is asking that his trial be moved from Muscogee County.
Charged with shooting 44-year-old Kelly Levinsohn in the back of the head at her Pratt Avenue home on May 11, William Leonard Talley is arguing he can't get a fair trial here because of pretrial publicity and the public's online reaction to it.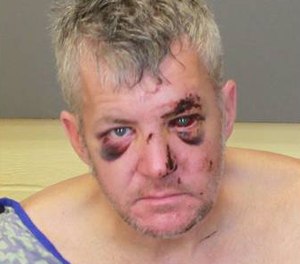 Meanwhile prosecutors are asking Judge Gil McBride to disqualify Talley's defense attorney Jennifer Curry, because she is engaged to a sheriff's sergeant who served on the "special response team" dispatched early May 12 to arrest Talley in Harris County, where he had wrecked Levinsohn's truck and held a pistol to his head during a standoff, threatening suicide.
The two motions set the stage for a potentially volatile hearing Tuesday in McBride's Government Center courtroom, where the judge already was set to hear arguments on reducing Talley's $1 million bond, before these latest legal maneuvers.
In her Tuesday motion to disqualify Curry, Assistant District Attorney Robin King wrote of Curry's fiance: "Sgt. Timothy D. Stone, a member of the Muscogee County Sheriff's Office Special Response Team, actively participated in the arrest of the defendant and is a critical witness who must necessarily be called by the state in the instant case."
Noting Curry and Stone share a home together, King added that Curry's representing Talley while having "an intimate relationship" with Stone presents "an inherent conflict of interest."
Curry filed a response to King's motion Thursday afternoon stating: "Sgt. Timothy D. Stone is the bomb squad commander and explosives K-9 handler. Sgt. Stone is also a member of the Special Response Team (SRT) which did not actively participate in the arrest of defendant. Sgt. Stone is not a critical witness...."
Stone's team was on standby during Talley's arrest and never engaged the suspect, and Stone was not involved in collecting any evidence in the case, she wrote.
Her relationship with the officer and their living arrangements "are irrelevant to the instant case and any other case" in which she is involved, Curry added.
She had asked McBride to seal King's motion to protect her privacy, but he declined.
Venue motion
In asking McBride to move Talley's trial, Curry wrote:
"The defendant is charged with multiple counts of crimes which elicit moral loathing and a desire for vengeance in this community because of their heinous nature.... The victim was a member of public service and property owner in this county and her murder evokes great passion and prejudice in the community. Large numbers of potential jurors have already expressed an opinion that defendant is guilty of the crimes charged."
As evidence, she cited not only news reports but also the reaction to them on social media, particularly Facebook. Among the examples she included in exhibits several pages long were online comments such as:
"Why not let him commit suicide, save us taxpayers."
"No sympathy. Let him rot!"
"FIRING SQUAD, SAME WAY."
"Automatic death sentence just like he gave the paramedic."
"Looks guilty to me," read one post, to which another online reader replied, "That's because he is," and a third added, "That's because he's evil. He deserves hell."
Of the news coverage, Curry wrote: "At least one major newspaper in the area … has published and circulated articles describing the acts with which the defendant is charged, and this paper included significant portions of documentary and hearsay evidence relative to defendant, the admissibility of which has not been considered by this honorable court."
As evidence, she included Ledger-Enquirer reports from Nov. 22 and from May 22.
She added: "Similar publicity was broadcast over the radio and television, as well as online … describing the acts with which defendant is charged. The tenor and intensity of publicity surrounding this case has severely prejudiced prospective jurors against the defendant."
So she's asking McBride to transfer the case "for jury selection and trial to a location with similar demographic composition sufficiently removed from Muscogee County to ensure defendant's right to a fair and impartial community setting and jury."
The hearing
McBride next week is to hear arguments on both motions along with Curry's request that he lower Talley's bond on charges of malice or intentional murder; of felony murder for allegedly killing Levinsohn while committing the felony of aggravated assault; of aggravated assault and of violating his oath as a police officer.
Curry has said Talley and his family can't afford a $1 million bond. She filed a motion Nov. 4 asking McBride to lower it, and the hearing on that motion was set for Tuesday before she filed the Nov. 27 motion seeking a change of venue.
Prosecutors are against moving Talley's trial. "We'll be opposing the motion on Tuesday," said District Attorney Julia Slater, declining further comment.
Curry's venue motion cites the Georgia Constitution, the Eighth and 14th Amendments to the U.S. Constitution, and a state law governing change of venue.
The Georgia law says that if the judge "is satisfied that an impartial jury cannot be obtained" after hearing evidence on the motion, he may grant a change of venue to any county agreed upon by the attorneys or, if rejecting the county they propose, may choose another location.
The presiding judge must consult the chief superior court judge of the judicial circuit that includes the county chosen, and work out details such as setting a trial schedule and deciding who will pay the expenses.
Jury option
The judge also may choose to select jurors from another county's jury pool and hold the trial in Columbus, paying for the jurors' lodging, meals and other expenses while they are here.
That's what happened here in 1986, for the trial of serial killer Carlton Gary, known as the "Stocking Strangler" for raping and strangling older Columbus women from September 1977 to April 1978.
Gary was arrested in 1984, when memories of the seven serial killings concentrated in Columbus' Wynnton area remained fresh in the public's conscious, having caused such shock and terror that some still lived in fear of the strangler's return.
For his 1986 trial, attorneys picked a jury from Spalding County, in Griffin, and bused the jurors to Columbus, where they were sequestered and lodged in a downtown hotel, and escorted each day to court by Muscogee County deputies.
Gary was convicted in three of the seven stranglings and sentenced to death, though his appeals lasted decades before he was executed March 15, 2018.
The homicide
Though Talley's married with two children, he and Levinsohn were having an affair his family was aware of. His wife Rebecca Talley called police around 8 p.m. May 11 to warn them Levinsohn had come to harm, and reported the person responsible was involved in a wreck in Harris County, authorities said.
The wife met officers outside Levinsohn's 5829 Pratt Ave. home, police said. Forcing their way in, they found Levinsohn shot to death, and learned Talley had wrecked the paramedic's pickup truck off the Hopewell Church Road exit of Interstate 185.
An overnight standoff with police and sheriff's deputies ensued, during which Muscogee County dispatched its special response team with an armored vehicle.
Injured in the truck crash, Talley remained under guard in intensive care at Piedmont Columbus Regional until his release May 16. Two days later, he waived his preliminary hearing in Columbus Recorder's Court, and initially was held without bond as his case went to Superior Court.
He's still being held alone in a cell in the Muscogee County Jail, where he is on suicide watch.
A former Army Ranger, Talley joined the police department in 2002, and served on its SWAT team. Police Chief Ricky Boren fired him on May 20.
———
©2019 the Columbus Ledger-Enquirer (Columbus, Ga.)
McClatchy-Tribune News Service