'A miracle did happen, Lachelle came home'
Father of missing Cleveland EMT thanks police, EMS, media, community for help
---
By Kaylee Remington
cleveland.com
CLEVELAND — Joseph Jordan, father of the missing Cleveland EMT Lachelle Jordan who was found Thursday night, talked Saturday about the relief he felt when he learned his family's prayers were answered.
Jordan jumped out of bed, put on his clothes and got out of the house in less than two minutes.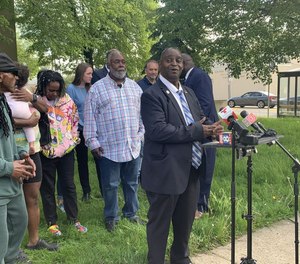 "I was gone," he said to a crowd of reporters Saturday afternoon. "I did not obey any speed limit."
Lachelle Jordan's family held a news conference at Cleveland Police Fifth District headquarters to address the media in the wake of her being found during the wee hours Friday morning.
Joseph Jordan declined to disclose any details about what happened to his daughter because of the ongoing investigation and because the family still has questions themselves. He would only say that "she ran."
Lachelle Jordan, 30, was found when she limped into a convenience store, Open Pantry on Euclid Avenue near Victoria Road, and called police.
She was taken to Cleveland Clinic for medical treatment. She is still in the hospital, but is on her way to recovery and in high spirits, her father said. He added that her two children have been able to visit her in the hospital.
Between 5,000 to 10,000 flyers were passed out during Lachelle's disappearance, thanks to her Cleveland EMS family, Joseph Jordan said. He also gave huge thanks to Cleveland police, community members who got involved to help and the media for spreading the word.
He said the family will be normal again, but not normal in the way they were before.
"We don't know exactly what (details) we're dealing with," he said. "We're meeting together as a family and we're going to work through this. Something like this will scare anybody because you have no control."
Joseph Jordan says he knows everyone wants to know the details, but stressed that this is an ongoing investigation and does not want to do anything that would impede it.
"I trust our law enforcement officers," he said. "Lachelle has had some trauma. She's had some injuries. She's going to be OK as can be expected."
Her twin sister reported her missing Sunday when she was last seen that night near her home on Fairport Avenue on the city's East Side, according to a Cleveland police report.
The report said her sister told authorities that Jordan went outside to the car to get something. She put Jordan's children to bed and realized she was no longer at the house, the report says. Her sister found that Jordan's cell phone was left behind.
The surveillance video from Open Panty shows Jordan walking into the store and calling 911 to report that she ran away from people who kidnapped her and tried to burn her.
Her sister told authorities the night she went missing that Jordan was scheduled to be in court Monday to testify against 65-year-old Michael Stennett.
Authorities charged Stennett, a recreation worker, with violating a protective order and stalking involving Jordan. He has not been charged in Jordan's disappearance, police said.
On Jan. 4, Stennett stood outside her home and refused to leave, police documents say.
A protection order was served on Stennett Jan. 13. Several times in April, Jordan told police she noticed Stennett following her in his personal vehicle while she worked, court records said.
Cleveland's EMS unit took Jordan off from responding to calls and assigned her to headquarters for her safety, Mark Barrett, the president of the Cleveland Association of Rescue Employees, the union that represents EMS employees, previously told cleveland.com and The Plain Dealer.
Cleveland police and federal agents continue the investigation.
©2023 Advance Local Media LLC.
Visit cleveland.com.
Distributed by Tribune Content Agency, LLC.
McClatchy-Tribune News Service