Quick Take: Encounter does not equal exposure if adequate PPE is worn
EMS medical director, EMS fellows share findings from Seattle EMS data on patient-provider transmission rate, COVID-19 presentation and comorbidities
---
By Marianne Meyers
The University of Washington Emergency Medicine Department (UWashEMS) presented a Grand Rounds Paramedic Training Tuesday virtual meeting on COVID-19 on Apr. 7, 2020.
Thomas Rea, MD, MPH, an internal medicine physician and Medical Director of King County EMS in Seattle, Washington opened by outlining how COVID-19 infections presented in the Seattle area and how they have evolved.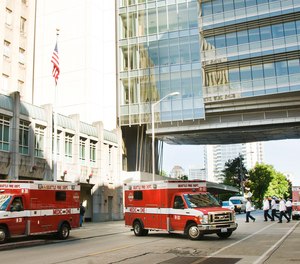 Doctors Betty Yang and David Murphy, EMS fellows and emergency medicine physicians at Harborview Medical Center, discussed the trends they've seen in their data regarding EMS and COVID-19 patients in the greater Seattle area.
Top quotes on UWashEMS Paramedic Training Tuesday
Here are a few quotes from the physicians.
"Encounter doesn't mean exposure if you are wearing adequate PPE."
"Occupational exposures have negatively impacted the EMS workforce and lead to substantial quarantines but even with inadequate PPE there seemed to be a low occupation-related transmission."
"The best treatment is oxygen and supportive care, along with ventilation when necessary."
— Dr. David Murphy
"Our goal is to deliver the highest quality of care and that hasn't changed."
"Business as usually with ALS airways wearing the appropriate PPE gives the most benefit to the provider, patient and system"
— Dr. Thomas Rea
Top takeaways on UWashEMS COVID-19 paramedic training
Here are 4 takeaways from the UWashEMS COVID-19 training.
1. The majority of COVID-19 patients have comorbidities       
When looking at their data, the team from Seattle has found that the vast majority of the COVID-19 patients their EMS has responded to have multiple comorbidities. Many have three-four comorbidities including diabetes, hypertension and lung disease. Less than 5% of the COVID-19 patients they are responding to have no underlying medical conditions.
2. Not every COVID-19 patient will present the same
The most common illness types EMS reported about patients who subsequently tested positive for COVID-19 included illness of unknown origin and difficulty breathing (about 50%), followed by trauma and infectious disease. Common first impressions included flu-like illness, respiratory distress, weakness and injury/pain.
The most common reported symptoms are cough, fever and dyspnea. About 70% of patients who later tested positive for COVID-19 reported at least one of these three symptoms, with many reporting all three. That means that 30% of COVID-19 positive patients don't present with cough, fever or dyspnea.
3. There is a very low EMS patient-provider transmission rate
Right now, Seattle's data suggests that only 1% of EMS interactions with COVID-19 patients lead to virus transmission. Wearing the appropriate PPE and taking precautions when treating potential COVID-19 patients significantly decreases the risk of infection.
4. Proper documentation is important
In order to accurately determine when an exposure has occurred, EMS providers need to clearly document their interactions with potential COVID-19 patients in detail. In order for reviewers to determine whether they were potentially exposed to the virus, it needs to be clear what happened on the call and what PPE providers were wearing. Without proper documentation of the PPE worn, they're unable to determine if providers were adequately protected.
Read next: King County (Wash.) shares EMS resources for COVID-19