Pa. prepares for vaccine rollout; first responders in 1st phase
EMS providers are included in the first half of phase 1 of the state's distribution plan, and firefighters and police officers are included in the second half
---
Megan Guza
The Tribune-Review, Greensburg
HARRISBURG, Pa. — A covid-19 vaccine could be approved and available before the end of the year, but supply constrictions and phased rollouts mean immunizing the state will be a slow process stretching into next year, Pennsylvania's top health official said Thursday.
"A lot will depend on exactly how much vaccine we get, which will determine how many people we can vaccinate," Secretary of Health Rachel Levine said.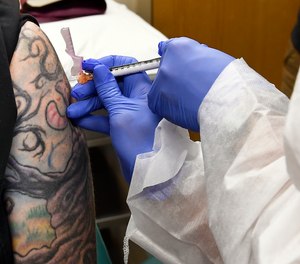 Levine said all indications from pharmaceutical companies and the federal government point toward Pfizer's vaccine receiving federal approval in December and Moderna following in late December or early January.
"If the federal approval process remains on track, we could have a vaccine within the next month," she said. "However, we do not know how quickly the vaccine supply will meet the demand for it."
Most vaccines in development right now, including Pfizer and Moderna, require two doses.
Pennsylvania plans a phased roll out of the vaccine, as was instructed by the Centers for Disease Control and Prevention. The first phase is broken into two parts, and it will focus on health care workers in hospitals and long-term care facilities, as well as EMS first responders and those living in congregate settings like long-term care facilities.
The plan notes some vaccine will be set aside to help stop an outbreak in, for example, a nursing home.
The second half of phase 1 will include other health care workers who don't work in emergency care or critical care units, as well as school nurses, university health center employees and outpatient care providers. It also will include employees in congregate care settings such as prisons, rehab facilities and homeless shelters.
Law enforcement and fire services will fall into the second half of phase 1, along with some subsets of critical workers. Some individuals with certain underlying medical conditions — cancer, obesity, heart conditions and more — along with people older than 65 fall into the second half of the first phase.
Phase 2 includes of slew of critical workers from a variety of sectors, including but not limited to commercial stores, communications, manufacturing, food service, transportation and education. Individuals with certain high-risk conditions will be included in phase 2, such as those with asthma, cystic fibrosis, liver disease, high blood pressure and pregnant women.
Phase 3, essentially, is everyone else who does not fall into the categories in phases 1 and 2.
A Gallup survey released Tuesday shows about 58% of Americans say they are willing to get a covid-19 vaccine, up from 50% in September. Vaccination leads to the much-talked about herd immunity. The percentage of the population that needs to be immunized to reach herd immunity varies by disease, according to the World Health Organization. For context, about 95% of people need to have the measles vaccine to stomp out that virus. For polio, according to WHO, it's about 80%.
Levine conceded "vaccine hesitancy" will be a hurdle and said that while the federal Operation Warp Speed is a pithy nod to Star Wars, it's a bit of a misnomer.
"People think that it was that fast thus it might not be as safe," she said. A reason it has moved so quickly, though, is because the vaccine development — not just one, but six — is being funded all at once.
She said she is not concerned about politics playing a role in the development of a vaccine, saying science has driven the process and will continue to drive the process as the Pfizer and Moderna vaccines move through phase 3 clinical trials.
Levine stressed, however, that a vaccine is not a cure-all, and vaccination does not mean the pandemic ends.
"We're going to be rolling this out through the winter and then the spring and into the summer," she said of the vaccine. "It could take a significant amount of time to immunize everyone in Pennsylvania. I anticipate that we're going to be wearing masks in 2021 — well into and maybe until the end of 2021."
___
(c)2020 The Tribune-Review (Greensburg, Pa.)
McClatchy-Tribune News Service