Texas county inks new ambulance contract to fill void left by agency that raised prices
"This is really just kind of like a bridge contract for [Hidalgo County] to try to figure out how we're going to survive," said Commissioner David L. Fuentes
---
By Valerie Gonzalez
The Monitor
McALLEN, Texas — Hidalgo County commissioners approved one-year contracts to cover a void in ambulance services for rural areas in Precincts 1 and 3.
Before approving the new agreements, commissioners terminated a six-month contract they signed about a month ago with Skyline EMS. That contract was signed after Pharr EMS notified the county that it would cut off services unless the county paid a significant cost increase.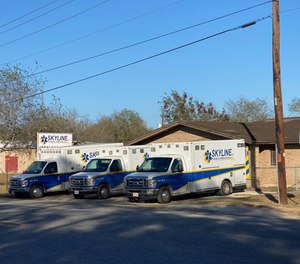 Unable to meet the cost, the county went out for a six-month contract to fill in the void and to solicit quotes from other ambulance service providers. Thursday's agreement will also essentially buy the county time, Precinct 1 Commissioner David L. Fuentes said.
"This is really just kind of like a bridge contract for us to try to figure out how we're going to survive and what we're going to do after this one year," Fuentes said.
Precincts 1 and 3 will each have two dedicated ambulance units to serve their residents in rural areas. The county, which owns the contract, can terminate the agreement with a 30-day notice or extend it for another year.
"By getting into this agreement, it gives us about a year to figure out how we're going to move forward because as of right now, we need to figure out a way to make it more within the budget constraints of the ESD [emergency services district]," Fuentes said.
The monthly cost will be $70,000 for Precinct 3, but Fuentes explained ESD 2, which covers the Delta area, will contribute $25,000, a more reasonable amount than the initial contribution the emergency services district was facing.
"Essentially the rate that they [ESD2] were given was going to be somewhere in the neighborhood of about $100,000 a month. And they had been paying between $15,000 and $20,000 a month for services in the area," Fuentes said. The monthly amount Pharr EMS quoted the district was more than its annual budget.
While Precinct 3 will have some help covering the expenses, residents of Precinct 1 will face a harder situation.
"Precinct 3 is in a very scary situation because my precinct is the only precinct that does not have an emergency service [district]. Everybody else has it," Precinct 3 Commissioner Everardo "Ever" Villarreal said. "So, when we received the 30-day notice of cancellation or (asked to) pay a very large amount of money that the county was not prepared to pay, was not budgeted, it was scary because we didn't have the money budgeted."
Villarreal held a meeting with his residents and said while he's concerned over the costly services, he doesn't plan on proposing a tax increase. Instead, Villarreal said he's discussing the creation of an emergency services district in his precinct.
"It's important for the media to understand that we're going from zero subsidy to where they're actually charging for their services," Precinct 2 Commissioner Eduardo 'Eddie' Cantu said. "If that's left out of the conversation, none of this makes sense."
Cantu said ambulance service providers were not charging a subsidy to governmental entities like the county or cities.
Fuentes said the pandemic aggravated the problem and strained businesses that lacked those subsidies.
"I think there were a lot of health issues with the pandemic and everything else that really put a stress, not only us as the county, but on providers like this in general," Fuentes said. "You see, a lot of them just couldn't make it anymore. I think that's what opened their eyes to it, and now we're having to literally pay the price."
The contracts with Skyline EMS will buy the county time to figure out a better financial situation, but so far they have yet to find the shape of an ideal agreement.
"What's manageable? I'm not sure, but the yearly budget, roughly speaking, is about $400,000 for that ESD," Fuentes said about the district in his precinct. "So we need to bring it a lot closer to that. Because the ESD, you know, has to find a way to operate and provide those critical services to save lives."
___
(c)2022 The Monitor (McAllen, Texas)
Visit The Monitor (McAllen, Texas) at www.themonitor.com
Distributed by Tribune Content Agency, LLC.
McClatchy-Tribune News Service