Pa. dispatcher's story featured in new 9/11 book
John Shaw's 78-second call with United Airlines Flight 93 passenger, Edward Felt, is part of a new book titled "The Only Plane in the Sky: An Oral History of 9/11"
---
By Deb Erdley
Tribune-Review, Greensburg, Pa.
WESTMORELAND COUNTY, Pa. — Today, he's a supervisor in the Westmoreland County Department of Public Safety's emergency dispatch center. On Sept. 11, 2001, John Shaw was a young dispatcher in the newly opened 911 center.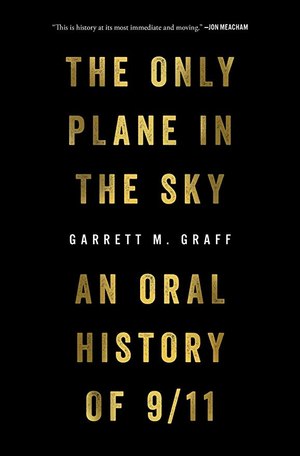 It was 18 years ago today that he took a 78-second call from Edward Felt, a passenger on United Airlines Flight 93 who used his cellphone to report a hijacking in progress somewhere over the skies of eastern Westmoreland County. Their conversation quickly became part of the official record of America's darkest day.
Now, that conversation is preserved in "The Only Plane in the Sky: An Oral History of 9/11" by Garrett M. Graff.
The book went on sale Tuesday. Building on hundreds of official transcripts, documents and interviews with first responders and survivors, it offers a compelling tale of the events of that day in the voices of those who lived it from the morning when the hijackers board airliners in Boston and Newark bound for infamy through the crumbling Twin Towers, the white-knuckle meetings in the White House bunker and the terror and horror that followed.
Shaw's conversation with Felt, a 41-year-old computer programmer, is on pages 170-171. It is tucked in between the accounts of military pilots scrambling on orders to take down the jetliner and conversations with family members of other passengers who spoke with their loved ones moments before they rushed the cockpit of Flight 93.
The narrative builds on the stories told at the Flight 93 National Memorial that now occupies the Somerset County field near Shanksville where the jetliner headed for the nation's capital crashed after passengers and crew fought back.
Shaw wasn't available for comment Tuesday, but he has recounted his tale time and time again.
On the first anniversary of the terrorist attacks, he told the Tribune-Review those 78 seconds seemed like an eternity and recounted that conversation:
"He told me two or three times that he was on the hijacked plane. I asked for his name. He said he was on United Flight 93 and he had used his cellphone to call 911," Shaw said. "We talked until we lost his carrier, but I held on just in case his phone found another carrier. Sometimes that happens. This time it never did."
———
©2019 Tribune-Review (Greensburg, Pa.)
McClatchy-Tribune News Service