How to become a 911 dispatcher
Emergency dispatchers are crucial for obtaining information needed to determine an emergency course of action.
---
By Megan Wells, EMS1 Contributor 
What are the requirements to become a 911 dispatcher?
Applicants for a dispatcher role must have a GED or high school diploma to be considered. Some states require further certification, though often the accreditation can be obtained during the hiring process. Applicants for a position need to be at least 18 years of age (21 in some states). If you're in a competitive area, prior job experience will be a bonus.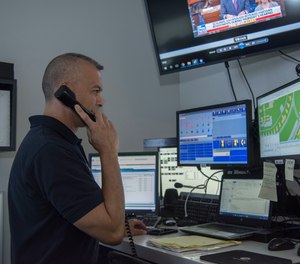 Computer skills, especially typing accuracy and speed are important for a dispatcher. A common typing requirement for applicants is at least 35 words per minute, though some departments have higher standards.  
In addition to the aforementioned requirements, applicants will usually need to complete a comprehensive background investigation, performance exam, oral exam, psychological exam and medical exam. 
Very specific skills and characteristics are helpful to thrive in a dispatcher role. Communication is an important skill for dispatchers. Dispatchers are responsible for giving constant, updated information about the call to keep both the caller and the response team informed of the situation.  
Apply for a position
If you think becoming a dispatcher is right for you, look for positions in your desired location and send an application.
According to the Bureau of Labor Statistics (BLS), the median pay for a 911 dispatcher in 2015 was $38,101, annually or $18.27 per hour. 
The top paying states for 911 dispatchers are:
The District of Columbia: $59,950
Nevada: $57,760
California: $57,140
Washington: $54,090
Oregon: $53,770
Classroom and on-the-job training
After getting hired to a department, dispatchers will go through a company-paid training. The BLS reports most programs require at least 40 hours of training in both a classroom setting and on-the-job. 
Dispatcher training programs cover a variety of topics which may include:  
Professional ethics
Domestic violence
Radio technology
Telephone technology 
Hands-on training with team leads 
Memorizing radio codes
Learning the phonetic alphabet
Continued development for advancement 
You can join a professional association such as the National Emergency Number Association, the Academies of Emergency Dispatch or the Association of Public-Safety Communication Officials for continued and specialized training opportunities and resources. Some departments offer stipends for advanced training courses.  
What else should you know about being an emergency dispatcher?
Remember, it's difficult to receive a call from someone who is having the worst day of their life. Pain and anger can be projected onto a 911 dispatcher. Some callers might be very nervous to speak with a dispatcher on the phone.  Learning to communicate in a helpful and non-defensive way is critical for success in this role. 
Just like other public safety professionals, dispatchers work around the clock. Overtime and long shifts are very common in this profession – that includes evening, weekend and holiday shifts.  
A career in dispatch can be incredibly rewarding. Dispatchers are held in high regard by EMS, fire and police. Dispatchers are on the front lines of helping their community and public safety officials stay safe. 
This article, originally published on March 8, 2018, has been updated