911 dispatchers go beyond call of duty
April Lucas is one of the 19 people who serve as a dispatcher at the Enid Police Department's communications office, where they answer 500 to 900 calls with three to five dispatchers per 12-hour shift
---
JordanMiller
Enid News & Eagle, Okla.
ENID, Okla. — It's pouring outside, and some streets are starting to flood.
The rain pounds on the roof of the Enid Police Department, where inside a glassed-in room, dozens of computer monitors are flashing and phones are ringing. April Lucas answers one of these calls from a woman whose 80-year-old cousin called her to tell her she was stuck in a flooded ditch.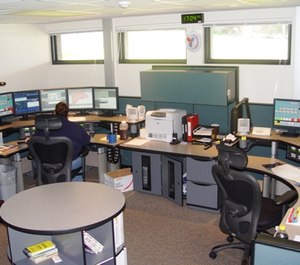 "Tell her just to stay in her car," Lucas said to the caller.
Lucas notifies the appropriate services for response to get the woman help and gives the caller more instructions to relay to her cousin, while also giving emergency services the details of the call.
Lucas is one of the 19 people who serve as a dispatcher at the Enid Police Department's communications office, where they answer 500 to 900 calls with three to five dispatchers per 12-hour shift. These calls include administrative, animal control, fire and police department calls in addition to 911. Lucas has been working as a dispatcher for the past eight and a half years at EPD, and currently serves as a dispatch supervisor.
"When I got this job I was working at the county jail, and one of my friends worked here and she asked me to come over and apply," Lucas said. "This is not a job that most people are like, 'Oh, I should be a dispatcher' ... this job is definitely not for everybody."
Before becoming a dispatcher, trainees undergo three phases of training to gain the skills necessary for answering 911 calls and directing emergency services, Lt. Warren Wilson said. Wilson has served as the 911 administrator at the Enid Police Department for four years, overseeing the communications office and working with the state 911 board.
"We do eight weeks of training for each phase, and we try to get them about a month between those phases," Wilson said. "It takes the better part of a year to get through training from start to finish, when things are going well and we have enough staffing to train them."
Wilson said they start off with two weeks in the classroom, then go into eight weeks of full-time call-take training, eight of fire dispatch training and then eight of police department training, which is the most difficult. The entire process takes 26 weeks with four weeks in between each phase.
"Everybody does everything, everybody has to be cross-trained," Wilson said.
While on the job, dispatchers rotate through the different stations in the call center: police dispatch, tele-type, fire dispatch, animal control and the supervisor station. However, all of the stations can dispatch anything from anywhere, Lucas said.
Although Wilson said there is not a "typical" 911 call, once the call is answered, it automatically populates on the Computer-Aided Dispatch screen and the dispatcher focuses on gathering the location of the call.
"That's more important than the 'what (of the call)' right off the bat with an emergency," Wilson said.
Landlines can provide accurate location information, but as cellphones become more popular dispatchers can use cellphone triangulation to identify a caller's location, Wilson said. However, the service relies on time to hone in on the caller's location between cell towers, something many emergencies do not allow. Dispatchers are required to send the medical services or fire services within 60 seconds, if necessary, Lucas said.
The fire department is always dispatched for medical calls, because there are only two ambulances designated for the city of Enid.
"Our fire department are first responders too, they're EMTs," Lucas said. "We send fire and they're always there before Life (EMS)."
While on the call, Wilson said there is a guide that pops up on the dispatchers' screens that lists questions they need to ask and information they need to take in from the callers. If it is a medical call, dispatchers transfer the call to Life EMS, but if it is a police or fire call, the dispatcher will send law enforcement or tap the fire department.
The dispatch department at EPD is made up of mostly women, Wilson said, as female dispatchers typically perform better in a split-ear test the department gives during training. The test evaluates dispatcher's multitasking ability and if they can gather information from two different things at one time.
During a shift, dispatchers sometimes listen to a call in progress with one ear while talking to and gathering information from emergency services on the other, muting their microphone so they can multitask until a response is needed on the call. While all of this is happening, they continue to input information about the call into the computer system.
"We've got a few of them that can do three things, gather information from three things at one time," Wilson said.
Occasionally, the job's stress and intensity can get to the dispatchers, especially when they go through a difficult call. Lucas advises other dispatchers in training that when they get a hard call, to just finish what they're doing, then to get up and take a break to clear their head.
"There are some calls that you get that they just grab a hold of you, they stick with you and they're hard to let go of," Lucas said. "It is a stressful job, but I think the calls are the best and worst part of it, too."
Lucas said although some calls can be exceptionally difficult, there are times that they get some funny and heartwarming calls, like a little girl who kept calling 911 to sing them her ABC's.
"There's so much about this job that is so wonderful too," Lucas said. "There's some things that happen where it shows your community is a community ... that warms your heart and makes you love this job."
———
©2019 the Enid News & Eagle (Enid, Okla.)
McClatchy-Tribune News Service