Streamlining combat medic to civilian medic process is good
Approach must include removing unnecessary hurdles and filling knowledge and skill gaps
---
I applaud the efforts being made to facilitate the transfer of military medics into civilian EMS roles. As the article on the Veterans to Paramedics Transition Act points out, there is significant overlap in training between the military and civilian prehospital provider, especially in the trauma theater.
While it's rare (fortunately) to see massive soft tissue injuries associated with battlefield mechanisms in the civilian world, the basic principles of airway, breathing and circulation management remain the same. It must be terribly frustrating for combat medics to have to retrain on the same information simply because one returns home from deployment; it presents an unnecessary hurdle, another barrier for folks who are trying to pick up their lives from where they left off.
By the same token, there are also critical gaps in the knowledge base between the military and civilian medic, especially in the management of medical conditions and assessment and care of pediatric, geriatric and behavioral emergency patients. Any curriculum that is designed to fast track medics must address these gaps, as well as provide clinical and field internships for veterans to hone their newly-added skills and knowledge.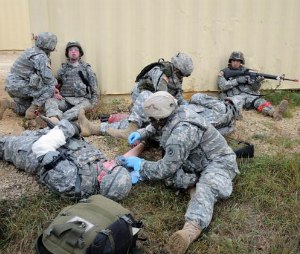 Perhaps the biggest transition will be mindset. In the military there is a certain amount of "liberty," shall we say, in terms of providing care to the injured. The myriad of laws and regulations that govern civilian practice will need to be incorporated into the military medic's new role of homeland defender.
All of these hurdles can be solved. Let's hope to find a solid, effective pathway to transition military EMS providers to civilian practice.