7 hurt after jet bridge collapses at Md. airport
Four paramedics, two Southwest airline employees and a sick passenger all fell to the ground and were treated for injuries
---
By Lillian Reed and Christina Tkacik
Baltimore Sun
BALTIMORE — Seven people were injured in a jet bridge collapse Saturday night at Baltimore-Washington Thurgood Marshall Airport, a spokesman for the Federal Aviation Administration said.
Staff on Southwest Flight 822 from Punta Cana, Dominican Republic, asked paramedics to meet them on the ground because a passenger had become sick on the plane. After the flight landed at 7:47 p.m., medics boarded to help the passenger off. As they left the plane, the jet bridge, which connects the plane to the terminal, collapsed.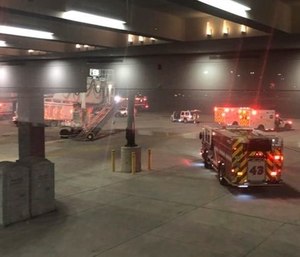 "The next thing you know, there was a crash," said Kelsey Traub, 20, who was on the plane.
Four medics, two Southwest airline employees and the sick passenger ell to the ground and were treated for injuries, according to the FAA.
Six were taken to hospitals with non-life-threatening injuries, according to BWI spokesman Jonathan Dean.
The remaining passengers left the plane on stairs. One was Traub, 20, who was flying home to Owings Mills, Md., with her family. Despite the drama, she said, "Everybody was pretty calm." Airport officials said on Twitter that BWI was investigating. A spokesman for Southwest said the jet bridge is owned by BWI.
Copyright 2018 Baltimore Sun
McClatchy-Tribune News Service