Mass. medics pen children's book
Frederick the friendly paramedic treats an injured skateboarder to help kids understand what to expect during a medical emergency
---
By Judy Wakefield
The Eagle-Tribune
ANDOVER, Mass. — When emergency responders are called to help a child, it usually means something bad has happened.
The experience can be frightening for a youngster, say two local paramedics who know.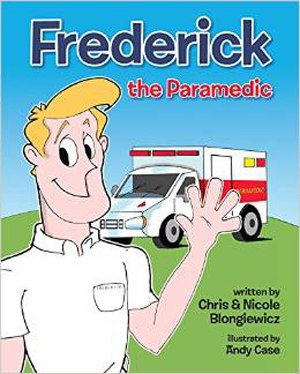 Chris and Nicole Blongiewicz of Andover, who work for Trinity Ambulance in Lowell and have 25 years of experience between them, said more than 20 percent of their calls involve children.
"The kids are so scared and obviously hurt ... they see us and think doctor and that means a shot and most start crying and screaming even more ... and they are already hurting," said Chris Blongiewicz, a 1995 graduate of Andover High School who is also a registered nurse in the emergency room at Holy Family Hospital in Methuen.
"It's tough for everyone, especially the injured child." 
So he and his wife, who met while working on the same Fallon ambulance, have written a children's book about a friendly paramedic named Frederick who helps an injured skateboarder while talking about the most important purpose of his job, which is to come to people's aid.
As Frederick the Paramedic responds to the Skateboard Park, young readers get to check out his ambulance and tag along as he assesses and treats the 12-year-old skateboarder named Tommy and transports him to the hospital.
Readers also learn about safety awareness (Tommy wasn't wearing a helmet or protective knee and elbow pads) as well as teamwork, first aid, and what happens in a real-life emergency.
The first-time authors hope adults will share "Frederick the Paramedic" with youngsters as a way of lessening their fears if they are ever involved in an emergency
Nicole Blongiewicz, who grew up in Quincy, said that after the birth of their first child, she and her husband found plenty of books on safety. "But few took readers through the whole process if you actually do get hurt."
So they decided to write their own. They turned to Kickstarter, an online fundraising site, for support, raising about $3,000 for the project.
The couple, who live on Beech Circle with their two young children, Sophia and Colin, envision the colorfully illustrated picture book as the first in a series designed to teach kids about safety around some of the most common childhood injuries.
"Frederick the Paramedic," published by Mascot Books of Virginia, is available for $14.95 from Learning Express, Andover Bookstore and Memorial Hall Library. Visit www.fredericktheparamedic.com for more information.
———
©2015 The Eagle-Tribune (North Andover, Mass.)