What words of wisdom would you tell your rookie self?
We asked EMS1 readers what seasoned advice they would offer their younger selves, and they delivered
---
It's never easy to be a newbie, but as a first responder, it can be more overwhelming than in most professions.
If you're just entering the world of EMS, these comments offer a look at what the seasoned responders of today wish they had known going in. Or, if you're one cardiac arrest response away from stepping off the rig for good, leave some hard-earned advice for the rookies of today that you wish you'd known back then.
Advice from former rookies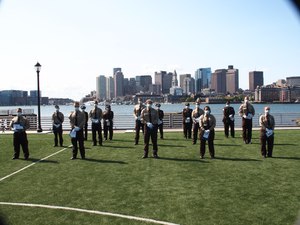 "Remain humble and kind. Never lose your compassion for people or passion for your career choice. Always remember it is NOT about you!" — Dr. Corey S. via LinkedIn
"The job is not your life. Take time to foster relationships and interests outside of work. And don't pull so many 24s; running on adrenaline and caffeine for extended periods will eventually take its toll." — Thomas Rivalis via LinkedIn
"Take it slow, soak up the experience and be open to continually learning as the profession changes and your life progresses. Always remember family comes first, so take care of yourself so you can take care of your family. Formal education matters, so as you move forward in your career, combine your experience with formal education. No matter what the situation, 'be kind' and treat every patient as you would want your grandmother treated. Finally, I would suggest that as you strive to be the best paramedical professional you can be, continually reach out and offer a helping hand, be a mentor, be a coach, be a teacher and, most of all, be an ethical and empathetic role model." — John Todaro via LinkedIn
"Learning something from every person you come in contact with." — Chris Cebollero via LinkedIn
"Keep going. It's not going to be easy … but it will certainly pay off!" — Tim Nowak via LinkedIn
"That you need to look for mentors to support you. There will be times when you feel all alone & you start to feel like you are drowning. It's at this point you need to reach for the support. Don't think you need to do it all on your own." — Cedric Franken via LinkedIn
"Strive to grow on a continual basis, both personal and professionally. Seek out the hard things and when things look like they're easy, it's time to make a change." — Jim Isbell via LinkedIn
"Every experience, job and encounter prepares you for the next one. You may not understand why you are where you are now, but someday it will make sense. That said, speak up when things don't feel right. Be loyal only to those who treat you well." — Amy S. via LinkedIn
"Being the tough hard ass does not benefit the patient or you … listen with empathy and compassion." — Travis Byerly
"Keep your mouth shut, eyes and ears open. Read a lot and never stop learning your craft." — Jason Pickering via LinkedIn
What advice would you share with rookie EMS providers? Fill out the form below to share your ideas.
Share your advice for EMS rookies