Delivering a responsive, consistent, accountable EMS provider experience
Today's EMS providers must focus on workforce culture to succeed, and deliver safe patient care with pride
---
By the Priority Leadership Foundation Class of 2019
As an industry, EMS professionals work around the clock to ensure our patients receive the best care with speed, clinical skill and compassion. Yet when we turn the mirror inward, we are an industry that has been agonizingly slow to shift the culture around our workforce and focus on delivering an employee experience that is responsive, consistent, accountable, and that fosters pride, trust, fairness and safety.
We continue to sail through unsteady waters that regularly impact recruitment, retention and employee satisfaction without a long-term strategy for addressing these problems. As leaders, it is our responsibility to not only set the tone at the top, but also to dive deep to ensure our employee foundation is solid. Our organizational success depends on it.
Accountability and ownership in EMS
As managers and leaders, it's imperative that we lead by example and create a culture of "extreme ownership" within our respective companies. Jacko Willink and Leif Babin, two former Navy Seals who wrote the book "Extreme Ownership," said it best:  "Implementing extreme ownership requires checking your ego and operating with a high degree of humility. Admitting mistakes, taking ownership, and developing a plan to overcome challenges are integral to any successful team."
A key factor in promoting accountability is setting clear expectations for all employees. This may seem overly simplistic, but the reality is structured communication of employee expectations often takes a back seat, understandably, to clinical training and other mandatory patient- and customer-related activities.
The first step is establishing comprehensive policies and procedures, and a structured training program to communicate them to employees. When your workforce understands the ground rules and incorporates them into day-to-day behaviors and decision making, we optimize our ability to stay on the same page and foster unity as a team.
Team communication tactics also feed into accountability and a sense of fairness. What's good for one is good for all. Leaders set the tone. And we believe they should be held responsible for providing the proper tools and training, setting clear expectations, remaining consistent, and encouraging open communications.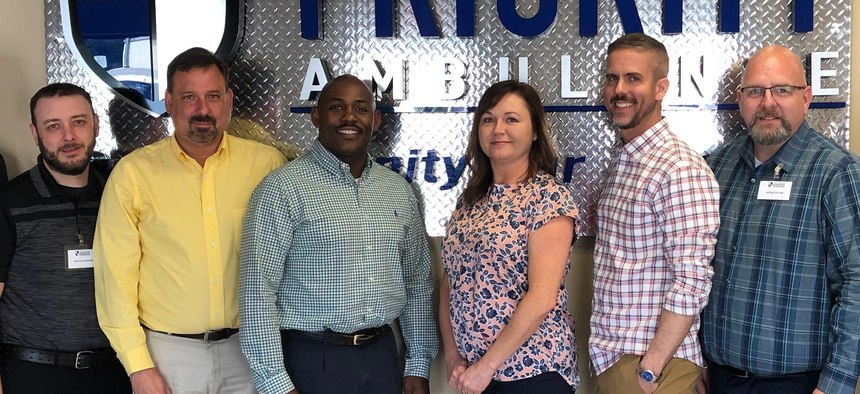 Consistent and clear policies
The crucial nature of clear, efficient and consistent policies and procedures has been supported by leaders throughout all industries, yet many companies – and especially in EMS – still operate by informal, word-of-mouth policies. In any business, such informal policies can be dangerous and open the organization to considerable risk and liability.
Effective policies and procedures define responsibilities, commitments and expectations, as well as mitigate risk. They must be consistent, structured and enforceable, all while meeting the ever-changing needs of EMS services and the people we work with.
Team pride fosters retention
We all want to be affiliated with an EMS organization that we are proud to be a part of. We want to be a company with the organizational mission, vision and values that attracts providers and makes them feel appreciated and respected.
A strong and effective workplace culture supports successful recruiting and retention programs, and with that comes long-term opportunities for promotion and advancement. A magnetic culture attracts exceptional employees who view EMS as a career.
What's your employee value proposition (EVP)? Does it provide value to your paramedics, EMTs and staff professionals in return for their hard work and dedication? A solid EVP details what the organization has to offer and what is expected of EMS providers in return. It is also a key component to attracting new employees, keeping them engaged and reducing turnover.
Do we really know what our EMS providers want?
Peter Drucker, author of "The Effective Executive," wrote that developing an effective EVP requires us to understand what employees really want in a job in four key areas:
Purpose
People
Work
 Reward. 
According to Drucker, purpose includes a transparent organizational mission, vision and values that attract providers and make them want to be part of something they can be proud of.
People promotes a culture of mutual trust between all parties, including providers, top management, immediate supervisors, customers and patients.
Work involves the operational aspects of the job, such as requirements, resources and the work environment.
Lastly, rewards include monetary incentives, including paychecks, bonuses and incentive programs, as well as non-monetary rewards, such as recognition and promotion.
The crux of the issue tends to lie with an organizational mindset – or culture – that assumes it knows what employees want when, in reality, it is way off base. Don't assume you know what your employees value. Ask them! You may be surprised what you hear and decide a culture shift is in order.
Celina Bradsby, James Simmons, Jason Payne, Corey Thomas, Travis Spencer and David Hearl, members of the Priority Ambulance Leadership Foundation EMS Leadership of Tomorrow Class of 2019, contributed to this article.
[Learn how to combat retention challenges in a Special Coverage package, "Defying the EMS retention crisis."]