Brother of slain Bronx EMT joins FDNY EMS in her honor
The brother and sister used to joked about being on the job together and he made getting into the FDNY EMS academy a priority after Arroyo's death
---
Thomas Tracy
New York Daily News
NEW YORK — Saving lives is in Joel Rosado's blood, the same blood his sister shed in service to the city.
Rosado, the brother of murdered Bronx EMT Yadira Arroyo is following in her footsteps.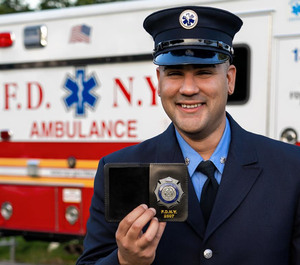 Rosado, 32, is graduating the FDNY EMS academy on Thursday and will be assigned to his big sister's station, the Daily News has learned.
"She's my hero," Rosado said in an exclusive interview with The News. "I want to do this for her."
Rosado was already an emergency medical technician when Arroyo was killed in the line of duty two years ago. The pair joked about being on the job together and he made getting into the FDNY EMS academy a priority after Arroyo's death.
"My sister has always been an inspiration for me," he explained. "If it wasn't for her, I wouldn't be where I am today.
"She's not going to be here to see that in person, but I know she knows," he said.
Arroyo, a 14-year FDNY veteran, was killed on March 16, 2017 when career criminal Jose Gonzalez stole her ambulance and mowed her down in Soundview.
He was allegedly high on drugs when he jumped on the rear bumper and slipped behind the wheel of the rig. When Arroyo, 44, stepped out to investigate, Gonzalez ran her over twice and dragged her into the intersection of White Plains Road and Watson Ave., prosecutors said.
The mother of five was working an overtime shift when she died.
Over the past two years, Gonzalez's lawyers have argued he is mentally ill and not responsible for his actions, although doctors have recently found that he is fit for trial, according to a spokeswoman for the Bronx DA's office.
During his four months of training, Rosado kept a low profile, insulated from his Arroyo's legacy because he has a different last name.
But, eventually people connected the dots, he said.
"I tried to keep quiet about it for awhile because I didn't want anything handed to me," he said. "But once (my relationship to Yadira) came out, everyone was really nice."
Rosado will wear his sister's badge number - 2017 - which was retired.
"Joel will not only wear Yadira's badge number, he will also carry her legacy of service, compassion, professionalism, and bravery with him on every call," FDNY Fire Commissioner Daniel Nigro said. "We are incredibly proud of him."
After his Thursday graduation, Rosado will head to Morrisania and work out of EMS Station 26, where Arroyo was revered as the crews' matriarch.
"This truly is the greatest way to honor a loved one that sacrificed her life for our city," said Oren Barzilay, president of FDNY EMS union, Local 2507. "I'm sure he will be as inspiring and successful performing his duties as Yadira Arroyo was."
Rosado's whole family will cheer him on as he crosses the stage at Brooklyn's Christian Cultural Center in East New York.
As he looks over Arroyo's mass card, which he always keeps in his hat, Rosado knows that his older sister will be watching as well.
"The biggest thing I remember about her is her laugh," he recalled, smiling. "She had a weird crazy laugh. It was unique."
"I'll honor her by doing my job and doing it correctly," he said. "Hopefully I can get up to her level."
———
©2019 New York Daily News
McClatchy-Tribune News Service