A day in the life of a station captain, holiday edition
Part of building crew unity is taking the opportunity to have some fun, but there must be room for training – plus all those EMS calls
---
As the holiday season approaches, colder air sweeps in. All over the city, space heaters are pulled out from closets and dangerously plugged into extension cords. Soon, Christmas trees will go up, their watering neglected, turning each into decorated sticks of kindling.
For those without a home, the winter holiday cold turns abandoned houses into temporary shelters. Makeshift fire pits are created from legless barbecue grills and set ablaze indoors. Everything must be considered occupied until searched.
To prepare for the unfortunate work every holiday season brings, my crew has begun its own tradition – a pledge that for one month we drill on the basics. We call it "No Excuse November," meaning no matter how busy the shift or how bad the weather, we get outside and get it done.
But the holiday season isn't all work. Part of building crew unity is taking the opportunity to have some fun.
Here is a day (and night) in my life as a fire captain this holiday season.
6:30 a.m.: After waking up my kids, giving hugs and saying goodbye, I load my truck. Typically it's a stack of clean uniforms, a few books recently checked out from the library and a cup of hot coffee filled to the brim. But today I have a new piece of cargo – a green Christmas sweater.
7:05 a.m.: I circle through a few neighborhood streets in my first-run territory, paying close attention to the houses that have recently burned. I remember that sometimes, when we do too good of a job and an abandoned house is left standing, it might burn again. The winter weather makes even a burned-out house an attractive shelter from the cold. I make mental notes on hydrant locations.
7:15 a.m.: The off-going crew and mine are gathered around the kitchen table. The older folks drink coffee. The younger ones guzzle down energy drinks. I check staffing to see where everyone is going to be. Due to staffing shortages that are affecting every fire department, there is no guarantee which apparatus anyone will end up riding, myself included.
7:40 a.m.: C-shift lines up at the time clock, we punch in our numbers and our shift has officially begun. We have four on the engine and two on the rescue.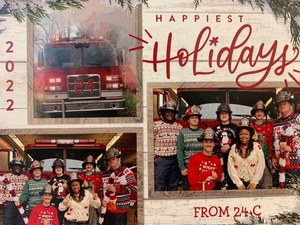 8:30 a.m.: The morning apparatus and equipment checkoffs are complete. I slide on the Christmas sweater. My lieutenant sets up his camera on a step ladder, sets a timer, and we all gather in front of the engine. This is our first station Christmas card.
9:05 a.m.: We're dispatched to an elderly male with a displaced feeding tube. When we arrive, he is waiting at the front door wearing his coat. He carries his cell phone charger, recent discharge paperwork and a few orange pill bottles in a plastic grocery bag. It's not really an emergency, but he has no other way to the hospital. We take his vital signs, gather some basic information, and he walks to the ambulance without assistance.
10:10 a.m.: The grocery store is crowded, and prices have gone up. We've increased our daily meal contribution to $15, but it's still a challenge to stay under budget. I land on red beans and rice for lunch and a new meatloaf recipe for dinner – an attempt at branching out from my usual Mexican fare.
11:05 a.m.: My red bean and rice recipe comes out of a $3 pre-mixed bag that produces enough grub for five guys. It's cheap and quick, but there is one key additional ingredient that makes this meal firehouse worthy – 2 pounds of Conecuh sausage, an Alabama delicacy. 
1:30 p.m.: Citywide the department is busy. It seems like everyone is running except for us. This isn't the best thing. For one, we need to stay in service for coverage. But also, whenever we have a slow day, it usually means we can expect a busy night. A senior firefighter told me years ago that it's simply the law of averages. If you usually run 10 calls a shift, and you've only run two by bedtime, put the coffee on. It's going to be a long night.
2:15 p.m.: The ambulance is out on a run in a neighboring territory. While they are out, the engine crew completes the day's special task, a deep clean of the bay. Starting up high, Sergeant Lewis knocks cobwebs down from the ceiling with a long-handled duster. The nozzleman brushes leaves and grass clippings out of corners. The rookie comes through with a backpack blower and shoots it all out into the street. Afterward, the concrete floor is hosed down and dried with squeegees. 
4 p.m.: No Excuse November has begun! Deploy the hose, mask up at the door, load the hose, repeat. We all take a turn. It's a cold day and getting colder as the sun goes down. But everyone is smiling and laughing. I've always loved the way a training session can bring a crew together. As an officer, the hardest part is motivating busy firefighters to get out and do it. Once you're there, they take over and the officer's job is pretty simple. When faced with a task, firefighters often will self-correct. So when the training begins, instead of pushing people to keep going, the officer tends to have to put an end to it so you can return to service.
6:30 p.m.: Family time. The TV is shut off and we gather around the table for dinner. After the first few bites, I haven't heard any of the constructive criticism about my cooking abilities that I'm used to. The meatloaf is a hit. It is gobbled down faster than I expected. Feeling proud, I throw out a question to fish for more compliments: "So, what did you guys think about supper?"
Response: "The cabbage could have used more salt." That's what I get for asking.
7:32 p.m.: Just as we finish up the dishes, the tones start to drop. The first call of the night is for an elderly patient with flu-like symptoms. Her skin is hot to the touch, and she has a miserable cough. Her vital signs appear normal, but she knows how she feels. And right now, she feels like she needs to go to the hospital. 
10:28 p.m.: We are dispatched to a structure fire. Upon arrival, the first engine reports nothing showing from the street. We turn down a narrow alley, zig-zagging through potholes and spilled trash. We find the reported fire. It's a group of three, two men and a woman, camping out in a garage behind an abandoned house. They have gathered around a small barbecue grill they've converted into a fire pit. The temperature is 20 degrees, so we don't want to force them to put it out, but it is not in the best place. We assist the group by moving the fire to a safer area. They thank us and apologize. We leave them as they tighten their circle around the small flames.
12:38 a.m.: We're dispatched to a female with chest pains. Her family lives out of state. Nothing is put away into cabinets. Groceries remain on the table. Clothes scattered across the couch. Only one open seat faces the TV in the corner of the room. It doesn't appear as if she has had any recent visitors. Nor does it seem like she is expecting any. We do an EKG, which shows a sinus rhythm. Even though we explain that only a physician at an emergency room can rule out a heart attack, she appears relieved. We talk for a few minutes, take a second blood pressure, and she refuses transport.
3:01 a.m.: We're dispatched to a man in his 60s experiencing abdominal pain. Like everyone else we've been to tonight, he lives alone. He has been vomiting for the past few hours, and the pain in his abdomen has grown serious. He is an amputee and a veteran. When we offer to carry him out, he chooses to walk to the rig.
5:01 a.m.: Chest pains again, this time an older woman. It's unclear if she woke up to the pain or if she has been up all night. But like all the rest of the callers we've had tonight, she lives alone. We complete our assessment and nothing remarkable is found. Her chest pain is sharp and not letting up. When she lays back on our stretcher, we cover her bare legs with a thin sheet and buckle her in. It's hard to find a vein on either arm. After a couple of tries to establish an IV, I get it. Before the ambulance leaves, Lt. Magee explains to her that her hospital of choice is on diversion. She chooses to go there anyway because that is where her doctors are.
7:40 a.m.: A-shift lines up at the time clock just as we are dispatched to inspect an activated carbon monoxide detector. As I go toward the truck, the officer scheduled to relieve me runs into the station carrying his turnout gear. He has just finished up an overtime shift on the other side of the city. He has been up all night also, but he still runs to the truck so I'm not stuck working late again.
I go back to the table to finish my coffee. My eyes are puffy and dry. It wasn't the worst night. There weren't any fires. But the medical calls were spaced out just enough to ruin any chance of feeling normal the next day.
My phone chimes. It's a group text from Kiyana, a firefighter on my crew. She has just finished editing our crew's Christmas card. I start to laugh, imagining all the sarcastic remarks that it'll draw when we send it out to our neighboring fire stations. This is my 11th year with the department, and though I feel blessed to have a family waiting for me at home, I feel just as lucky to be a part of this much larger second one. Just like every family, we are at times dysfunctional, but, with the right people, it can be a whole lot of fun.