NTSB: Driver in fatal Baltimore bus crash was speeding, had prior wrecks
The report stated that Glen Chappell, 67, was driving nearly twice the speed limit when he crashed the bus
---
Associated Press
BALTIMORE — National investigators say the driver of a Baltimore school bus that careened into a transit bus, killing six people, including himself, was speeding and had a history of crashes and seizures.
In its initial report Wednesday, the National Transportation Safety Board said 67-year-old Glen Chappell was driving nearly twice the speed limit when he struck a Ford Mustang from behind, then struck the transit bus: about 57 mph in a 30-mph zone.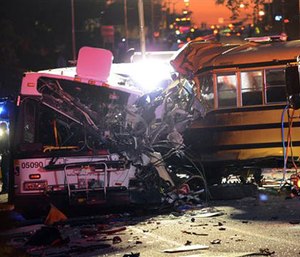 Chappell was driving the school bus for AAAfordable LLC of Baltimore, which held a contract with Baltimore City Public Schools.
The report says that a week before the Nov. 1 crash, paramedics had been called to the AAAFordable offices because Chappell was exhibiting seizure-like symptoms.