Church bells, kind acts mark 2 years since Boston Marathon bombing
People openly wept and hugged as church bells tolled at 2:49 p.m., the time the first bomb went off at the race's finish line April 15, 2013
---
By Philip Marcelo
The Associated Press
BOSTON — Bombing survivors, runners, elected officials and others paused for a moment of silence Wednesday on the second anniversary of the Boston Marathon attacks, the emotions clearly still raw from the deadly blasts during one of the city's most cherished events.
On Boylston Street, people openly wept and hugged as church bells tolled at 2:49 p.m., the time the first bomb went off at the race's finish line April 15, 2013.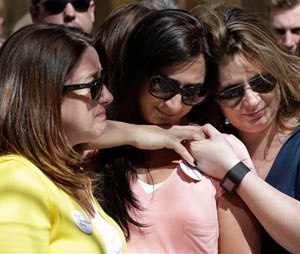 "It still feels like yesterday, to be honest," said Aleksander Jonca, a Boston resident who ran the marathon in 2013 and plans to again this year. "Two years later I feel like we're still struggling to find the words to describe what happened that day."
Large crowds formed at the two roadside spots where the bombs detonated, killing three people and injuring 260 others.
Workers, tourists, runners wearing Boston Marathon gear and bystanders with "Boston Strong" shirts fixed their eyes on the commemorative banners that had been revealed in a silent ceremony hours earlier. Below them were bouquets of brightly colored flowers and wreaths.
More than 100 blue and yellow balloons — the marathon's colors — were released into a cloudless sky as the church bells faded.
"As a mom, I still haven't moved on," said Liz Norden, a Stoneham resident whose two adult sons — J.P. and Paul — each lost a leg in the attack. "I know my boys have moved on. But it's hard. I see them put on a leg every day. It's still raw."
At the Old South Church near the finish line, hundreds gathered for an interfaith service with Christian, Muslim and Jewish leaders who focused on healing.
"We turn now to acknowledge that life goes on," said the Rev. Demetrios Tonias, dean of the Annunciation Greek Orthodox Cathedral in Boston. "Living goes on. Our prayers go on. Our grief goes on. But so, too, does our resiliency go on."
The day of remembrance began at 7:30 a.m., at the site of the blasts.
Mayor Walsh walked along the marathon route with the family of Martin Richard, an 8-year-old Dorchester boy who was the youngest of the victims.
With the plaintive wail of bagpipes in the background, Walsh, Gov. Charlie Baker, the Richard family and others pulled on long yellow drapes, revealing simple orange banners that bore a white heart emblazoned with "Boston" and the image of a road.
No words were spoken during the early morning ceremony.
Martin Richard's family members — father Bill, mother Denise, brother Henry and sister Jane, who also lost a leg in the blast — stood silently as bystanders, police officers, firefighters and marathon runners looked on.
Other victims were also in the crowd.
Jeff Bauman, who lost his legs above the knee in the blasts, exchanged a big hug with cowboy-hat-wearing Carlos Arredondo, who helped save his life two years ago.
The Boston Red Sox and the Washington Nationals paused their afternoon baseball game at Fenway Park out of respect for the anniversary. Bauman threw out the first ceremonial pitch.
The subdued memorial accompanied acts of kindness and generosity planned throughout the day.
Mayor Walsh declared April 15 "One Boston Day," calling for Bostonians to embrace a new way of remembering the attacks.
People donated blood to the Red Cross and helped clean up neighborhood parks while schoolchildren wrote thank-you cards and delivered pizzas to police and fire departments in recognition for their service.
Surviving bomber Dzhokhar Tsarnaev, 21, was convicted last week of 30 counts at his federal trial, and jurors will soon decide whether he should be sentenced to life in prison or to death. His older brother, Tamerlan, died following a shootout with police days after the attacks.