Judge overturns murder conviction, releasing former EMT Adnan Syed
Syed, 41, was convicted of murder in 1999, a case made infamous in the popular legal "Serial" podcast
---
A judge overturned a 1999 murder conviction on Sept. 19, 2022, releasing Adnan Syed, 41, from prison.
Syed spent over 20 years in prison after being convicted of murder in the 1999 strangulation death of his ex-girlfriend, Hae Min Lee.
Syed's case received national attention in 2014 when "Serial," a popular podcast revisited the case and raised doubts about some of the little-known evidence. In 2019, HBO released "The Case Against Adnan Syed." The four-part true-crime docuseries is directed by Oscar-nominated director Amy Berg and explores the disappearance and murder of Lee and the conviction of Syed. The documentary features interviews with family, friends, law enforcement and attorneys on the case.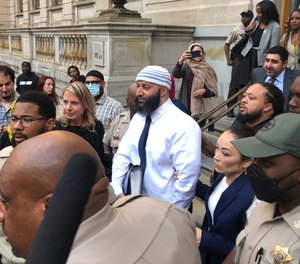 Syed, who has maintained his innocence for decades, even refusing a plea deal, was an emergency medical technician employed by Rural/Metro Ambulance, a commercial ambulance service in Maryland that was acquired by American Medical Response in October 2015. AMR is a Global Medical Response company.
Undisclosed and new evidence factored in
Baltimore prosecutors asked a judge to vacate Syed's conviction on Sept. 14, 2022. The State's Attorney's office released a statement that the motion supported a new trial for Syed based on a nearly year-long investigation that revealed undisclosed and newly-developed information regarding two alternative suspects, as well as unreliable cell phone tower data.
Both the Baltimore State's Attorney and Syed's public defender agree that the lack of evidence and building evidence pointing at other suspects, wrongfully convicted the then-17-year-old of Lee's murder.
Prosecutors went on to say they weren't asserting that Syed is innocent, but they lacked confidence "in the integrity of the conviction" and recommended he be released on his own recognizance or bail.
"Given the stunning lack of reliable evidence implicating Mr. Syed, coupled with increasing evidence pointing to other suspects, this unjust conviction cannot stand," Assistant Public Defender Erica Suter, Mr. Syed's attorney and, director of the Innocence Project told reporters last week during an interview. "Mr. Syed is grateful that this information has finally seen the light of day and looks forward to his day in court."
Part of the investigation
Lee disappeared on January 13, 1999, and her body was discovered three weeks later in a shallow grave in Leakin Park, Baltimore City. In 2000, Syed was sentenced to life in prison, plus 30 years without the possibility of parole. He spent many years incarcerated at the North Branch Correctional Institute, approximately 100 miles west of Baltimore.
The Grand Jury for Baltimore City issued a subpoena in April 1999 to Rural/Metro Ambulance, summoning them to provide all employment records for Adnan Masud Syed. This included, but was not limited to, application of employment, contract of employment, job description, work schedule, accounting of hours worked, and accounting of wages paid, training manuals and training procedures.
As reviewed in the second episode of "Serial," the State of Maryland argued that because Syed was an EMT, he would have known how to strangle someone and would have had the training to revive them if he wished. The medical examiner concluded that the choking of Lee was done with special precision … precision that only a trained EMT knows.
This argument goes into far more detail, in both the podcast, trial notes and docuseries, but begs to ask one question: were you taught the proper way to strangle someone in your EMT or paramedic training? No. I didn't think so. It would be the exact opposite, an EMT receives training to revive a patient that is choking or has any type of airway trauma that is not allowing them to oxygenate or ventilate.
Case discrepancies
Crissy Martz, a Maryland paramedic and critical care nurse who rallied behind Syed, is happy with Monday's hearing that has overturned.
Martz first became interested in the case during a Maryland Institute for Emergency Medical Services Systems Quality Assurance class where it was mentioned. "I was immediately drawn to his story," Martz added. "I guess maybe because of his age … only a year older than me. I became an EMT when I was the same age as him."
Martz summarized some of the key points raised by the podcasts and docuseries related to the disappearance, murder and conviction, including:
A star witness, Jay Wilds, changed his story several times after meeting with the police
A cell tower was noted in the wrong location
No physical or DNA evidence tied Syed to the murder
An alibi witness, Asia McClain, was dismissed
"I want to commend Adnan on his strength and perseverance over the past 23 years," Martz added. "It is going to be hard to overcome everything he has missed and how the world has changed. But finally, after 23 years, he is free."