Ex-firefighter arrested for stealing equipment from ambulance
Kenneth Gray admitted to police that he stole a $450 saw and thermal imaging camera; surveillance footage shows his wife pawning the saw for $30
---
By Jorge Milian
The Palm Beach Post
PALM BEACH, Fla. — A former West Palm Beach firefighter remains in the Palm Beach County Jail accused of stealing items from a city fire rescue truck, according to an arrest report.
Kenneth Gray, 34, is facing two counts each of burglary from an emergency vehicle and larceny of more than $300 of emergency medical equipment. He was arrested Tuesday and is being held in lieu of $20,000 bail.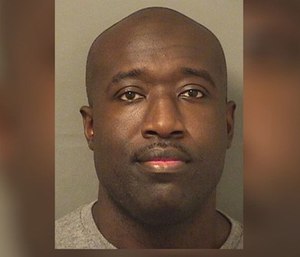 A fire department official confirmed Gray was fired from the fire department in February. No reason was given for the dismissal.
West Palm Beach police were notified of the theft Aug. 11 after it was discovered that a cordless electrical saw valued at $450 was missing from an ambulance, the report said.
A search of area pawn shops revealed the saw, marked with "WPBFD" and "West Palm Beach Fire Dept," had been pawned by Gray's wife for $30 a few days after the theft, police said.
Video surveillance from the pawn shop allegedly shows Gray standing next to his wife as she completes the transaction.
While speaking to West Palm Beach detectives on Sept. 2, Gray admitted to stealing the saw and a thermal imaging camera, the report said. He entered the ambulance at least twice using his knowledge of a hidden unlock button, but said he didn't recall taking either medication or a medical kit that was also missing from the emergency vehicle.
Gray told police that stealing the items was the most humiliating thing he had ever done and "repeatedly said that he was embarrassed and had no money and needed to find a way to make money to feed him and his wife," the report states.
Gray, a West Palm Beach resident, told police that his wife was not aware he stole the equipment.
Copyright 2017 The Palm Beach Post