ECG Challenge: Nitroglycerin, right?
To give or not to give, that is the question
---
Editor's note: Check out this month's ECG case study and submit your treatment plan in the comments below. If Tom selects your plan as the best, you could win an EMS1 T-shirt and bottle opener. Good luck!
EMS is called to the residence of a 67-year-old male complaining of shortness of breath.
At the time of EMS arrival the patient walks out of the bedroom into the living room and slumps over onto the gurney in obvious distress.
Past medical history: Hypertension, GERD, Prostate CA
Medications: Prinivil (lisinopril), Norvasc (amlodipine), Prevacid (lansoprazole)
The patient appears anxious. His skin is dusky and diaphoretic.
He states that he was short of breath "on and off" all night and had planned on playing tennis in the morning but "felt way too bad."
Vital signs are assessed.
RR: 18
HR: 34
NIBP: 108/50
SpO2: 97
The patient states that he became "much worse" after ambulating from the bedroom to the living room. As he calms down his respiratory rate comes down to about 28.
Breath sounds: diminished bilaterally
The patient is placed on oxygen via NRB mask @ 15 LPM as the cardiac monitor is attached.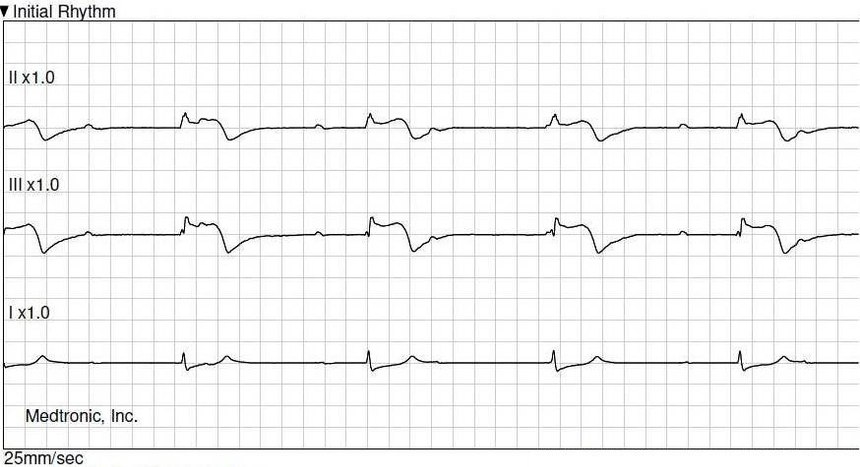 A 12-lead ECG is obtained.

What is the heart rhythm?
What do you think of the 12-lead ECG?
Would you activate the cardiac cath lab?
How would you treat this patient?