Prehospital care of the critically injured K-9
Law enforcement and SAR K-9s are public safety personnel who may require the emergency care of EMS providers
---
The McSwain EMS Trauma Conference is a one-day symposium covering the treatment prehospital providers render to a range of traumatic injuries. It is held every year in New Orleans and named for Dr. Norman McSwain, the pioneering trauma surgeon and lifelong advocate for EMS.
NEW ORLEANS — Veterinarians Amber Davidson and Erin Daniels from MedVet, a 24-hour veterinary emergency and specialty referral hospital, gave a synopsis on the care and treatment of operational K-9s at the fourth annual McSwain EMS Trauma Conference.
Prehospital providers are increasingly being turned to when emergency care for a working K-9 is needed due to the rising prominence of their use in law enforcement and search and rescue. Both the general public and K-9 handlers have an expectation that in a time of need, EMS will be prepared to treat these animals as the four-legged members of the first responder family that they are. 
Much of the information covered followed an algorithmic assessment approach similar to human patient assessment, with caveats for the unique anatomy and temperament of an operational K-9, a category that houses law enforcement, military and search and rescue K-9s. Here are some memorable quotes, key takeaways and additional resources from the session.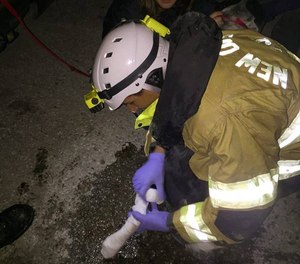 Memorable quotes on injured K-9 assessment
Davidson and Daniels, when discussing assessment, shared these memorable quotes.
"If they are good enough to wrestle with you, they are good enough to sit there on their own."
"Advanced diagnostic assessment with human equipment is often done in the vet setting, but it should never delay treatment"
"Do CPR in lateral recumbency on the broadest point on the chest. Don't try to turn them on their back unless you're working with a bulldog, a breed I doubt you'll see in this context."
"If you do something painful, they may be less unconscious than you thought."
Key takeaways on K-9 emergency care
As a SAR K-9 handler, I found this presentation especially interesting. Here are my top takeaways for other EMS providers.
Although only California and Ohio have legislation that explicitly allow EMS personnel to render emergency services to animals, providers in other states, including Louisiana, are protected to do so, so long as they are governmental employees performing their official duties.
These animals are extremely intelligent and can sense fear. Always approach an ill or injured K-9 calmly and within view to avoid a startle response.
Muzzles save fingers, but since K-9s don't sweat and rather expel heat by panting, basket muzzles are preferred since they don't preclude the K-9's ability to breathe.
Defer to the handler for information on the K-9's behavioral status. Always make sure a handler is with the K-9 during treatment and transport.
The utility of aid rendered on scene should be balanced with the benefits of a faster transport time to a veterinarian.
Additional resources on K-9 emergency care: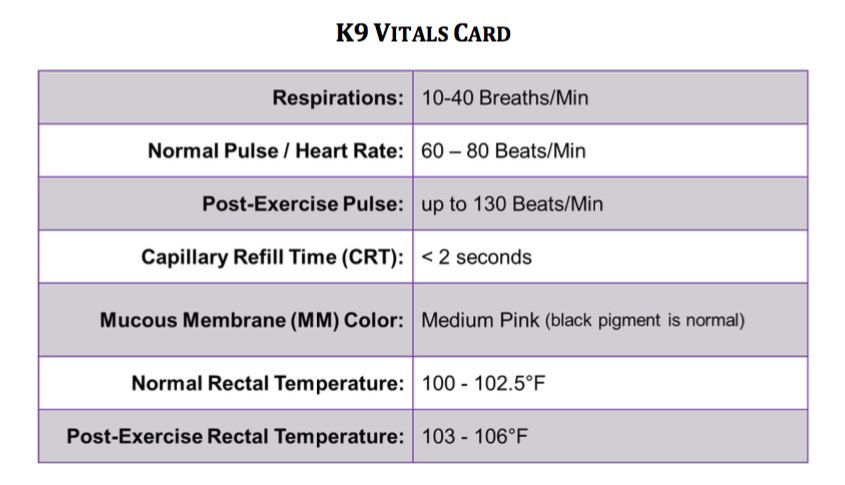 This article, originally posted on Nov. 9, 2016, has been updated.