EMS agency receives K-9 first aid training
Veterinarian Beth Eisenberg gave an in-depth training session to Armstrong Ambulance staff on how to help K-9s hurt in the line of duty
---
By EMS1 Staff
ARLINGTON, Mass. — An EMS agency received training on how to administer K-9 first aid.
According to a press release, 28 Armstrong Ambulance staff members received in-depth training from veterinarian Beth Eisenberg that would help them treat a K-9 injured in the line of duty.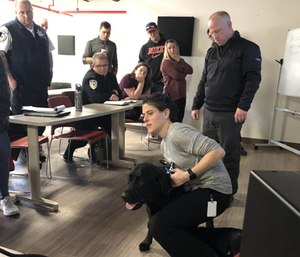 EMS providers trained with a black lab to learn how to properly listen to its heart and lungs, as well as how to locate its pulse.
They also learned how to provide safe transport, how to treat trauma wounds and practiced CPR on a K-9 mannequin.
"We work closely with police departments and other law enforcement agencies which includes their K-9 members, so we want to be prepared to provide critical lifesaving aid to anyone at a scene who may need it," Armstrong CEO Richard Raymond said. "Our team members did an excellent job building an understanding of how they can provide immediate help to injured dogs just like they would with an injured person."