Surgical team performs leg amputation at multi-vehicle crash scene
Responders were attempting to extricate a driver when a log from one of the trucks trapped the man
---
By EMS1 Staff
KOOTENAI COUNTY, Idaho — A surgical team made an unprecedented save after performing a leg amputation after three semi-trucks crashed Thursday. 
Responders were attempting to extricate a driver when a log from one of the trucks trapped a man. In order to be rescued, his leg needed to be amputated.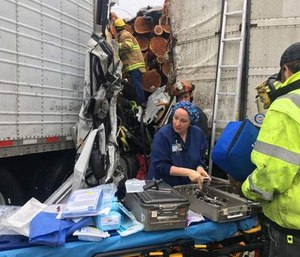 "It was absolutely a life or death situation," Chris Way, Kootenai Fire and Rescue Chief, said.
Two trauma surgeons, a nurse and an anesthesiologist were called to the scene to perform the amputation, reported Coeur d'Alene/Post Falls Press. 
"This had never been done in Kootenai County," Chief Way said. "It may happen fives time a year in North America. It's very rare to take a surgical team to a scene."
4th of July pass closed for the next few hours. Multiple semis involved pic.twitter.com/xIMig5QqUE

— Matt Vergara (@KREMMatt) January 19, 2017