Paramedic who pushed partner out of danger to have leg amputated
Despite several surgeries to repair the badly injured leg, Rory Barros' doctors told him it cannot be saved
---
By EMS1 Staff
WACO, Texas — A paramedic who was badly injured after being struck by a car at a crash scene will have to have his leg amputated after repeated efforts to save it.
KWTX reported that Rory Barros, who pushed his partner out of harm's way in the crash, underwent multiple surgeries in an effort to save the badly injured leg, but doctors said it cannot be saved.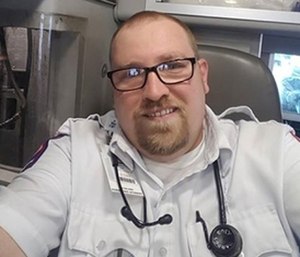 "Today, we met with the doctor to schedule the amputation of my husband's left lower leg this next Monday," Barros' wife, Amy, said. "He has minimal movement in that lower leg and minimal sensation."
"His knee remains the main source of his continuous pain. When it comes down to it, Rory would most likely end up wheelchair bound and on massive amounts of narcotics for the rest of his life if we keep the leg," Amy added.
Despite the situation, the family is staying positive.
"He will do great with a prosthetic. Amputation will be worth it, all of this will be worth it if he can live how he wishes to," Amy said.