AMR closing its Los Angeles County non-emergency operations
The company said it will try to transfer employees to its emergency division
---
By Leila Merrill
LANCASTER, Calif. — American Medical Response announced Tuesday that it is closing its Los Angeles County non-emergency operations over the next 180 days.
In a news release, the company said that the division employs more than 170 EMS providers and other workers. AMR said it intends to transfer as many of those employees as it can to its emergency operations.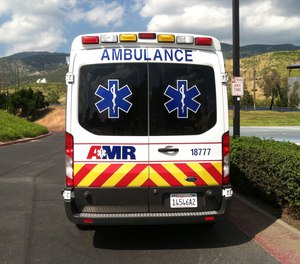 AMR stated:
"California has not increased Medi-Cal reimbursement for private ambulance operators since the late 1990s. The current Medi-Cal base rate for private ambulance services sits just above $100, which is far below our cost of providing the transport. The State's Medi-Cal reimbursement rate is one of the lowest in the country, but it also has the highest operational costs for ambulance transports. What's more, we are not subsidized by taxpayer funds like public agencies, and almost 80% of our patients pay nothing or below cost for our services. When you combine current reimbursement shortfalls with recent inflationary pressures, our Los Angeles division is on course to have an operational deficit of over $3.5 million."
The company took issue with federal and state lawmakers' decisions.
"As we continue to experience the financial impacts of low Medi-Cal reimbursement, a tight labor market, and recent federal, state, and local policy decisions that have negatively impacted our ability to provide both emergency and non-emergency ambulance services, AMR has no choice but to work diligently and swiftly to protect our core emergency 911 operations to ensure we can meet the needs of our patients and communities we serve," said Ken Liebman, regional director of operations for AMR.
AMR said that its management will "work with the county and other stakeholders to minimize the impact on the healthcare system as they seek out other providers to cover the 28,000 yearly transports currently provided by AMR's non-emergency division."