Texas county commissioners postpone purchase of new ambulance
Walker County officials are scrambling to purchase an ambulance before the next budget cycle in an effort to upgrade its aging fleet
---
By Joseph Brown
The Huntsville Item, Texas
WALKER COUNTY, Texas — Walker County officials are scrambling to purchase an ambulance before the next budget cycle in an effort to upgrade its aging fleet.
Despite the scramble, the purchase of a $237,897 ambulance will have to wait at least a month with county commissioners postponing the request until they have a "full understanding of where next year's budget will be."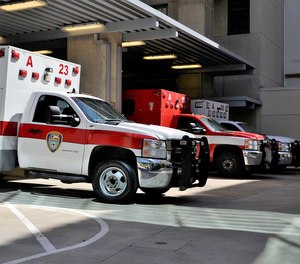 "The money for a new ambulance is sitting in an account that we have access to, and a chassis is sitting on the ground now that we could have delivered in 90-100 days," Commissioner Bill Daugette (Pct. 2) said. "If we wait until October, we are going to be lumped in with groups from across the country, and it will probably delay us in getting a new ambulance until this time next year.
"We are way out of whack with the nationwide ambulance-to-mileage standards and getting a new ambulance gets us closer."
Ambulances have not been historically purchased on a cycle, with one currently running with nearly 220,000 miles.
"You got 90 days left (in the budget cycle) and we are in hurricane season … a lot of things can happen between now and then," Commissioner Ronnie White (Pct. 2) replied. "I don't want to jump into this without looking at the numbers, and I think purchasing an ambulance today is premature."
Officials were looking to purchase the ambulance out of project contingency funds, which currently has a balance exceeding $700,000.
"The call volume has gone up so much over the last few years," Commissioner Jimmy Henry (Pct. 4) said. "Not a week goes by where the New Waverly call volume is not growing. Like it or not, we are going to need to get on a schedule where we are buying an ambulance every year."
The request for a new ambulance was initially presented during a budget workshop last week, but was requested to be heard during the current fiscal cycle by Commissioner Daugette. Commissioners agreed to take up the action again on Aug. 5.
In other action, commissioners set a public hearing for Aug. 12 to consider placing a request for a new emergency service district in western Walker County on the Nov. 5 election ballot. The new ESD No. 3, which received 176 sufficient signatures, would surround the Crabbs Prairie community.
Commissioners also:
agreed to the purchase of $1,350 in furniture for the Hwy. 19 EMS station.
approved the submission of a CCBG Disaster Recovery application grant totaling $4,445,805 to provide drainage and street improvements.
approved a payment of $85,199.60 to Solid Bridge Construction for work on the Paul Dixon Road culvert project. The project is approximately 80% complete.
The next scheduled meeting of the Walker County Commissioners Court is scheduled for July 8 at 9 a.m.
———
©2019 The Huntsville Item (Huntsville, Texas)
McClatchy-Tribune News Service