Shots fired as Ala. ambulance stolen
The vehicle was pursued by Mobile Police Department squad cars, traveling through the midtown area of the city, before eventually being boxed in by a police SUV
---
Christopher Harress
Alabama Media Group, Birmingham
BIRMINGHAM, Ala. — Shots were fired in midtown Mobile Friday morning after a stolen Fire-Rescue ambulance took cops on a chase through the city.
The vehicle was pursued by Mobile Police Department squad cars, travelling through the midtown area of the city and eventually being stopped at Emogene and Williams Streets, according to Mobile Police Department.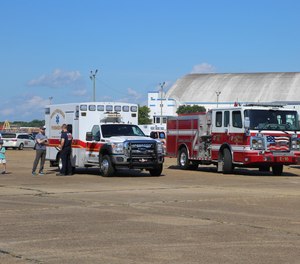 Information over police scanners suggested a patient was inside the vehicle, but this has yet to be confirmed.
The chase, taking place during rush hour, went down Government Street and even passed Mobile Police Department Headquarters before eventually being boxed in by an police SUV.
A hospital gurney was spotted several blocks behind where the vehicle was stopped, apparently falling from the rear of the ambulance, according to police.
It's not yet clear why the ambulance was stolen, but police believe it may have been taken in the Springhill area close to Old Shell Road.
Police are currently on the scene as the investigation continues.
This is a breaking news story and will be updated as more information becomes available.
———
©2019 Alabama Media Group, Birmingham
McClatchy-Tribune News Service