San Antonio couple injured in Beirut blast raising money to buy ambulances for Lebanon
Imad and Lina Khalil said their experience made them recognize the importance of supporting Lebanon's EMS system
---
By Laura French
SAN ANTONIO — A San Antonio couple who were injured in the massive explosion in Beirut last month that killed 190 people, including 10 first responders, say they want to give back by raising money to buy ambulances for Lebanon's EMS providers. 
Imad and Lina Khalil were in their 11th-floor condo across from the Beirut port when the devastating explosion occurred on Aug. 4, according to KSAT. Imad Khalil said he was thrown through the air and through a pane of glass, and his wife ran down the stairs to get help. A group of men used a condo door as a stretcher to bring him down to the ambulance.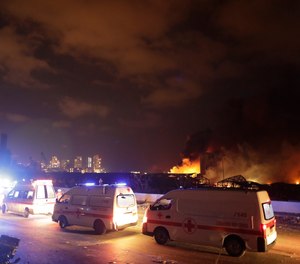 "My experience in the Ambulance allowed me to see how important emergency services are during a disaster," he wrote in the description of the couple's online fundraiser. "I was squeezed into an ambulance with 3 other people that were critically injured, including the 2 medics in the vehicle." 
The couple both underwent surgery for their injuries, and Imad Khalil said he lost 40% of his hearing due to the blast. He said his near-death experience led him to feel that he had a mission to help the people of Lebanon through improved emergency medical services. 
The Khalils wrote in their fundraiser description that they will be personally donating $25,000 to the fund, and another $25,000 once it reaches its goal of $300,000. The fundraiser has raised more than $55,000 so far. 
"The lack of aid and medical services for the people of Lebanon is a disaster within itself," Imad Khalil wrote. "This fundraiser will allow those donating to be apart of rebuilding Lebanon's emergency services for those in need."