New ambulance service coming to Fla. county struggling since Hurricane Michael
Century Ambulance left the county around December due to the costs associated with hurricane recovery and the loss of employees
---
Patrick Mccreless
The News Herald, Panama City, Fla.
PANAMA CITY, Fla. — A new ambulance service provider is set to operate in Bay County to help meet what some local first responders see as a growing need for care since Hurricane Michael.
First 2 Aid EMS, based in Osceola County, will initially bring 28 employees and three ambulances to the area — with plans to soon provide air ambulance service. The new company will fill a void created when another private ground ambulance provider ended service in the county late last year, leaving only one company to offer such services for the area.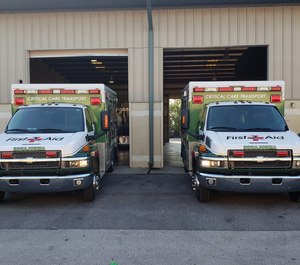 The Bay County Commission approved a certificate of public convenience and necessity for First 2 Aid to operate in the county during its regular Tuesday meeting. The decision came after the commission held a quasi judicial hearing on the company's application earlier in the meeting. First 2 Aid is expected to start services in the coming weeks.
Officials during the hearing said that the ambulance service provider called Century Ambulance left the county around December due to the costs associated with hurricane recovery and the loss of employees.
"But just because they left, that doesn't mean there still isn't a need," Chris Luczywo, owner of First 2 Aid, said to the commission.
The county's emergency service ambulances normally only responds to 911 calls. Previously Century and the county's other private ambulance provider, Lifeguard Ambulance, generally responded to other medical calls and hospital transfers. However, they help with 911 calls if needed.
"Century did help us tremendously in 911 overflow," Brad Monroe, deputy chief of emergency services for the county, said during the hearing.
Monroe added that without Century, the county's ambulances have sometimes had to help with patient transfers to other counties, making those vehicles unavailable for 911 calls for long stretches of time.
"We think maybe having an additional service would help," Monroe said.
There will also be more need for ambulance care when the population grows as the county recovers from the hurricane, officials said.
"I believe our population is going to come back and we'll need this service to be enhanced," said Commissioner Bill Dozier. "I do believe having a second vendor is needed."
Melissa Kauffman, director of operations for First 2 Aid, said at the hearing that her company had already been in talks with air ambulance providers and would soon offer the service after getting approval from the county.
"We've got people in a holding pattern, to see what happens here today," Kauffman said at the hearing.
At the hearing, some representatives from Lifeguard opposed First 2 Aid entering the market, saying an extra provider wasn't needed and that adding one would saturate the market, hurting both companies and possibly patients.
"We've seen health care needs go down to some degree after Hurricane Michael," said Chip Roberts, EMS chief for Lifeguard, referring to skilled nursing facilities and other health care facilities still shut down since the hurricane.
Roberts added that Century left mainly because it couldn't find enough new employees to move to the county due to the housing shortage. The concern is that if a new provider moves in, it'll poach some employees from Lifeguard, but be unable to hire enough to fully staff itself, thereby hurting both companies' ability to provide adequate service.
Kauffman countered that argument, noting that the company plans to buy a house in the county and have employees sent there to live while they work 10-day shifts.
"They'll do that and rotate in until things improve with housing," Hauffman said.
———
©2019 The News Herald (Panama City, Fla.)
Distributed by Tribune Content Agency, LLC.