Mom seeks refuge in Ky. ambulance with kids after shots fired
The LFD ambulance was in the area responding to a call when a woman and her children asked the firefighters for help after her car was hit by bullets
---
By Matt Stahl and Mike Stunson
Lexington Herald-Leader
LEXINGTON, Ky. — A woman who was driving with two children ran to an ambulance for help Thursday afternoon when a person in another vehicle chased her and shot at her car, according to police.
The Lexington Fire Department ambulance was in the area of Courtland Drive near Raleigh Road on an unrelated call when the woman and the vehicle chasing her drove past, Lexington police Lt. Chris Van Brackel said. When she saw the firefighters, she and her two children got out of their Toyota Camry and got into the ambulance.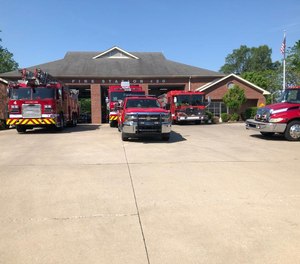 The ambulance was struck by a bullet and had minor damage, Lexington Fire Major Jordan Saas said. The ambulance involved works out of Station 2 on Eastland Drive.
The woman's Camry was also struck by gunfire, Van Brackel said. It was "very lucky" that no one was injured in the shooting, he said.
The firefighters in the ambulance immediately called for help after the shooting, and police arrived to investigate what happened.
Once everyone was in the ambulance, firefighters took the woman and her children to a fire station before continuing on to the hospital with their original patient, Van Brackel said.
"It's just a stroke of luck that they were here on the other call," Van Brackel said. "And they did what they always do, they help."
It is not clear why the woman was chased and shot at, but Van Brackel said it could have been a case where her car was mistaken for someone else or a possible road rage incident.
Henry and Sadie Huddleston, who live on Raleigh Road, said they heard at least four gunshots while they were inside their home.
Another witness, Ernie Parker of Raleigh Road, said he saw a gray SUV chase a small black car after hearing shots fired. The black car then made a U-turn and drove through a yard across the street from Parker, he said.
Courtland Drive was closed during the investigation of the shooting, as well as a portion of Hi Crest Drive and Raleigh Road. Police reopened the roads at about 4 p.m.
Police are asking anyone with surveillance videos in the area to check if they caught anything that happened.
As of Thursday afternoon, there was not much information about the suspect other than the fact that they were driving a dark passenger car, Van Brackel said.
Anyone with information related to the case is asked to call Lexington police at 859-258-3600.
Anonymous tips, including photos and videos, can be submitted by texting LEXPD plus the tip to 274637. Information can also be sent anonymously through Bluegrass Crime Stoppers at 859-253-2020 or Bluegrasscrimestoppers.com.
———
©2019 the Lexington Herald-Leader (Lexington, Ky.)
McClatchy-Tribune News Service