Ambulance service seeks help after fire destroys headquarters
The American Legion Ambulance Association is back up and running thanks to donated ambulances, but still needs help with the $2 million in damages
---
By EMS1 Staff
WOODSTOWN, N.J. —An ambulance service is up and running again after a fire destroyed five ambulances and their headquarters, but assistance is still needed to repair the $2 million in damages.
NJ.com reported that the American Legion Ambulance Association, which is the primary 911 provider for several towns, is now working out of other locations with donated ambulances.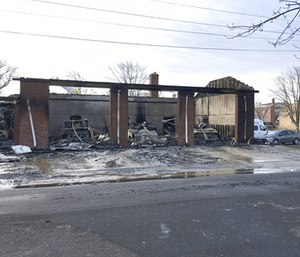 "I'm happy to say we're back in service with crews working from other locations," American Legion Ambulance Association president Joe Valentine said.
Two ambulances have also been donated by other EMS agencies to help with calls, and a GoFundMe page was created to alleviate some of the funding needed.
"Everyone was coming up to me yesterday asking how they can help, what they can do and saying we need to get something set up," Valentine said. "So, they made a GoFundMe page for people to donate."
The association is also working on setting up an account with the bank to allow donations.
The fire is currently under investigation.