4 firefighters, cop suffer smoke inhalation in ambulance fire
The first responders were transported to a hospital as another crew quickly extinguished the ambulance that was parked at the fire station
---
By EMS1 Staff
BATESVILLE, Ind. — Four firefighters and a police officer were transported to the hospital for smoke inhalation after an ambulance caught fire.
Batesville Herald Tribune reported that an engine fire in the Batesville Fire & Rescue ambulance caused the blaze while it was parked at the station, according to officials.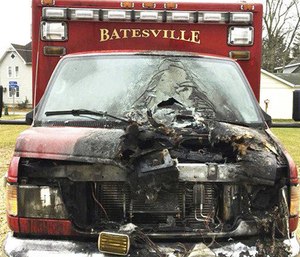 Fire Chief Todd Schutte credited two EMS providers for their quick response in extinguishing the fire.
"We are very blessed because the two staffed EMS employees at the station when the fire broke out were able to quickly escape, notify dispatchers to summon for more help and assist in the quick extinguishment of the fire," Chief Schutte said. "This is proof that fires can happen to anyone anywhere and the quick actions of the EMS crew is a reminder that it's extremely important to call 911 immediately when you see an emergency."
The first responders were transported to the hospital and later released.