Closing arguments begin in trial of man who hit paramedic while driving drunk
Rory Barros spent four months in the hospital, survived 16 surgeries and had his leg amputated after being hit
---
By EMS1 Staff
WACO, Texas – Closing arguments are underway in the trial of a man who hit a paramedic while driving under the influence.
KCENT reported that Alec Nava had a blood alcohol content of 0.225 when he hit Rory Barros as he was walking to his ambulance. Barros pushed his partner out of the way and took the full brunt of the impact, forcing him to have his leg amputated after multiple surgeries to try and save it.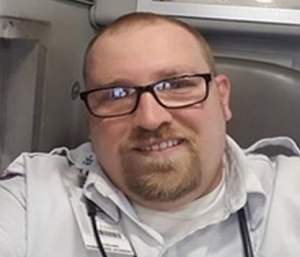 Troy Sandifer, a Waco police officer, testified in court that Nava had several empty beer cans in his car, and was unaware he had hit anyone when approached by officers.  
Nava was driving with a suspended license at the time that he hit Barros, who says that regardless of the trial's outcome, it will not bring closure.
"It's not like he tried to single me out and run me over," Barros said. "If he would have wrecked 100 miles down the road, I would have been the one to help him. It's just that he has to understand the consequences and he has to pay for that."
Nava faces up to 20 years in prison for the charge of Intoxication Assault on a Public Servant.