Memorials to mark 1-year anniversary of air ambulance crash that killed 3
The plane crash that killed a paramedic, a nurse and a pilot in North Dakota is still under investigation by the National Transportation Safety Board
---
Jack Dura
The Bismarck Tribune, N.D.
BISMARCK, N.D. — Bonny Senger's motto is "One day at a time."
In the year since she lost her fiance, Todd Lasky, in an air ambulance crash northwest of Mandan, she's found peace in daily meditation near the Missouri River and other time spent outside this summer.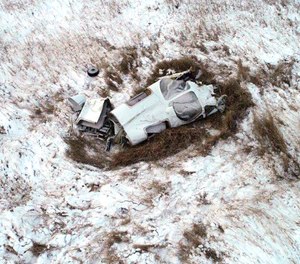 "I spent a lot of time in my backyard because we were going to get married in my backyard," Senger said. "I found a lot of peace just being outside, and nature makes you feel close to God."
Lasky, a 48-year-old pilot, died in the crash, along with CHI St. Alexius Health nurse Bonnie Cook, 63, and Metro Area Ambulance paramedic Chris Iverson, 47. They were en route at 10:30 p.m. Nov. 18, 2018, from Bismarck to Williston to pick up a neonatal patient when their Cessna 441 "broke up in-flight," according to a preliminary crash report.
Memorials this morning will mark the first anniversary of the crash that the National Transportation Safety Board is still investigating. The work eventually will produce factual and final reports.
"Our investigations take about a year and a half before they're complete," NTSB spokesman Terry Williams said Nov. 7.
A factual report will include more information from the investigation for analysis of the crash to determine its cause. A final report will contain the ultimate conclusions as to the crash.
The preliminary report released two weeks after the crash ruled out a fire or explosion. The plane had climbed on a direct course and reached 14,000 feet above sea level. The craft then "entered a steep right bank and radar contact was lost."
No distress signals were received from the plane, which was destroyed. Wreckage was scattered over an area 1 mile long and 600 feet wide in a snowy field northwest of Harmon Lake in rural Morton County.
Sheriff Kyle Kirchmeier previously said the plane was not struck by anything. Weather also is not believed to have been a factor.
More than 1,400 people, including hundreds of emergency responders from throughout North Dakota, attended a civic memorial service for the three. Dozens of ambulances participated in a procession through Bismarck.
Bismarck Air Medical and CHI St. Alexius Health each will hold private memorial services this morning for loved ones and co-workers to honor Cook, Iverson and Lasky on the anniversary.
Bismarck Air Medical will hold an anniversary memorial before the hospital will unveil and bless a memorial space outside its South Broadway entrance. The space is a sitting area designated for reflection.
The hospital's neonatal intensive care unit also has a new transport incubator in memory of Cook, who sought to raise funds for a second incubator before she died.
The incubator lost in the crash was replaced by insurance, and donations in Cook's memory will go toward NICU training and the transport team, said CHI St. Alexius Health marketing coordinator Chelsey Kralicek.
Senger, a physician recruiter in Bismarck, plans to attend both ceremonies with her sons. She's visited Lasky's grave in Minnesota and has pondered an angel wings tattoo to commemorate him and Mike Petersen, her boyfriend who died in a hiking accident in 2017 near West Yellowstone, Mont.
But it's frustrating not knowing why the plane crashed, why the investigation is "on the back burner," she said.
"Maybe we'd feel a little less anxious if we knew why," she said.
In the year since the Bismarck Air Medical tragedy, she's noticed other plane crashes in the news, something that "sticks out" to her now.
It's not uncommon for crash investigations to take this long, Bismarck Air Medical Director of Operations Jonathan Ternes said.
He's involved in the NTSB investigation and said he understands the frustration as to its pace.
But he pointed out other, older crashes still awaiting final reports, and the two Boeing 737 Max airliners and Boeing 767 cargo plane that crashed in the last year, drawing widespread attention.
"We're never going to forget about them and we'll always care about them," Ternes said of the Bismarck Air Medical team. "We care about the families. We want to do it right."
———
©2019 The Bismarck Tribune (Bismarck, N.D.)
McClatchy-Tribune News Service