Air Force medic crews compete in EMT rodeo
The teams competed for best military EMT honors during the two-day competition
---
By EMS1 Staff
CURRY COUNTY, N.M. — EMT teams from across the Air Force came together at the Cannon Air Force Base for the 10th annual EMT Rodeo.
Cannon Air Force reported that 21 teams consisting of four EMTs competed for best military EMT honors as well as validate their training and Readiness Skill Verification requirements.
Participating medics gained 23 continuing education units, which is around half of their annual requirements.
"We saw a need for a venue that could build camaraderie, and a chance to hone the job and leadership skills of our younger medics," Senior Master Sgt. Steven Yates said.  "The thought was to provide experience to fall back on if they found themselves in these situations, and also gain continuing education units toward their national registry certification and EMT licensure."  
The scenarios included realistic injuries and wounds, heart attack victims and gunfire, and they were designed to force medics to think outside the box.
"I was in their situation literally 10 years ago and now I get to pass on this torch to these participants," Sgt. Yates said.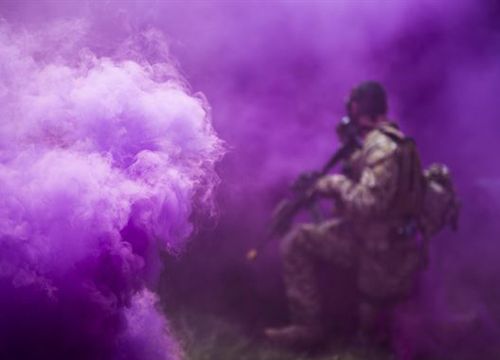 A team of emergency medical technicians carries a bombing victim to safety. (Photo/U.S. Air Force Photo by Staff Sgt. Charles Dickens)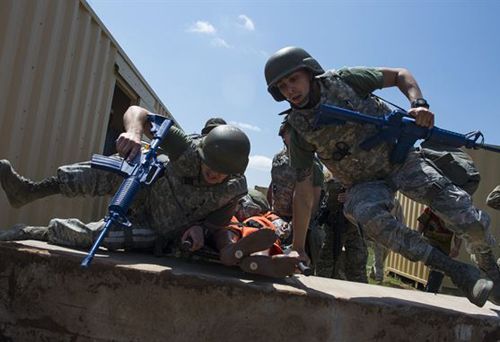 Air Force Emergency Medical Technicians hop over a barrier during the 'Commando Challenge.' (Photo/U.S. Air Force photo by Senior Airman Luke Kitterman)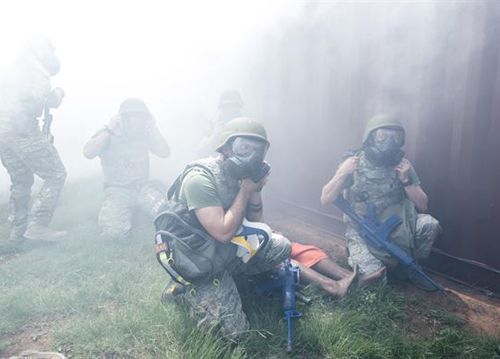 Air Force Emergency Medical Technicians put on their gas masks during the 'Commando Challenge.'  (Photo/U.S. Air Force photo by Senior Airman Luke Kitterman)