Officials searching for missing Alaska air ambulance
The Coast Guard said they were notified that a Guardian Flight King Air 200 medical flight was expected to land, but it never arrived
---
By EMS1 Staff
ANCHORAGE, Alaska. — A search is underway for a missing air ambulance flight, according to the U.S. Coast Guard.
KTUU reported that Coast Guard watchstanders received notification that a Guardian Flight King Air 200 medical flight was expected to land in Kake, but it never arrived.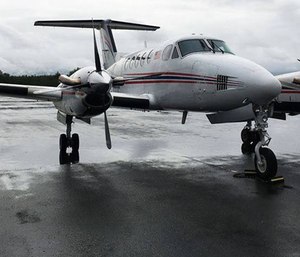 Officials said a pilot, flight nurse and paramedic were onboard the plane.
A Coast Guard vessel and helicopter are searching around the last known location of the aircraft, and good Samaritan vessels are searching as well.
"Coast Guard crews are diligently searching for the missing aircraft and individuals," Coast Guard Lt. j.g. Colin McClelland said. "We appreciate the assistance of the good Samaritan vessels and we hope we locate the aircraft and people soon." 


Guardian Flight Senior Vice President of Operations Randy Lyman released a written statement.
 "The Guardian Flight family is devastated to report that a company aircraft flying from Anchorage to Kake, Alaska has been reported missing," the statement said. "Our thoughts and prayers go out to our fellow employees and their families during this very trying time."
Lyman added that the company initiated a stand down of their fleet until they locate the plane.
We will update you when more information becomes available.