Neonatal abstinence syndrome: Infants falling victim to the opioid crisis
Learn how infants who were exposed to opioids present while suffering from withdrawal
---
By Dr. Michael Pittaro, faculty member, Criminal Justice at American Military University; and Shanna O'Connor, alum of the Philadelphia College of Osteopathic Medicine
According to a U.S. Department of Health and Human Services report, 116 people, on average, die each day as a result of an opioid-related drug overdose. The 2018 report indicated there were 42,249 opioid overdoses resulting in death in 2016, which is more than any previous year on record, and 15,469 of those overdose deaths were specifically from using heroin. The opioid epidemic, as it has become known, is estimated to have cost the United States $504 billion dollars in 2016 alone.
The CDC noted that the increase in opioid overdose deaths can be attributed to three distinct, yet recent, waves: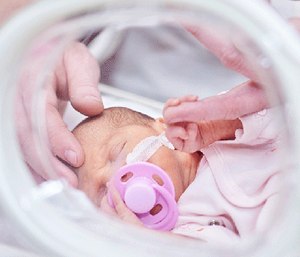 The first wave began with the increased prescribing of opioids in the 1990s, with overdose deaths involving prescription opioids (natural and semi-synthetic opioids and methadone) increasing since at least 1999.
The second wave began in 2010, with rapid increases in overdose deaths involving heroin.
The third wave began in 2013, with significant increases in overdose deaths involving synthetic opioids – particularly those involving illicitly manufactured fentanyl (IMF). The IMF market continues to change, and IMF can be found in combination with heroin, counterfeit pills and even cocaine.
Many criminal justice professionals focus their research on addicts and their engagement in crime as well as those impacted by those crimes (i.e., the primary and secondary victims). However, one particular victim group of the opioid epidemic that has been largely overlooked and understudied is the children born to opioid-dependent mothers who actively used throughout pregnancy. This is a topic that warrants immediate attention.
Infants harmed by opioid exposure
The Substance Abuse and Mental Health Services Administration  reported in 2017 that the past decade has seen a significant increase in the number of infants exposed to opioids before birth. The report noted that between 2000 and 2009, opioid use among women who gave birth in the United States increased from 1.19 to 5.63 per 1,000 hospital births per year.
As a direct result, the United States has witnessed an incredible increase in the incidence of neonatal abstinence syndrome (NAS) among newborns. NAS primarily caused by maternal opioid use during this same period went from 1.20 to 3.39 per 1,000 hospital births per year. These are the most recent statistics, so one can only assume that these percentages have increased even further given that the opioid epidemic has considerably worsened since 2009.
To compound matters, the aforementioned SAMHSA report also concluded that heroin use is most common among those who are unmarried, unemployed, under-educated and uninsured. High-risk lifestyles and social, physical and mental health problems are, as one could imagine, more pronounced in heroin users.
What is neonatal abstinence syndrome?
Stanford Children's Hospital defines neonatal abstinence syndrome (NAS) as a group of problems, mostly medical, that a baby experiences when withdrawing from exposure to narcotics. Nearly every drug used by a mother during pregnancy will pass from her bloodstream through the placenta to the fetus.
In the case of opioids, like heroin, drug dependence in the mother can lead to drug dependence in the newborn. At birth, the baby's dependence on the substance continues; however, since the drug is no longer being passed from the mother, the baby's central nervous system becomes overstimulated, resulting in symptoms associated with opioid withdrawal. Symptoms of withdrawal may begin as early as 24 to 48 hours after birth, or as late as five to 10 days.
The most common symptoms of withdrawal in newborns may include:
Tremors.
Irritability (excessive crying).
Sleep problems.
High-pitched crying.
Tight muscle tone.
Hyperactive reflexes.
Seizures.
Yawning, stuffy nose and sneezing.
Poor feeding and sucking reflex.
Vomiting.
Diarrhea.
Dehydration.
Sweating.
Fever or unstable temperature.
The withdrawal symptoms can last as long as 4-6 months after birth. A number of potentially dangerous complications also include:
Poor intrauterine growth.
Premature birth.
Seizures.
Birth defects.
Each baby may experience different symptoms of neonatal abstinence syndrome.
About the authors
Dr. Michael Pittaro is an assistant professor of Criminal Justice with American Military University and an adjunct professor at East Stroudsburg University. Dr. Pittaro is a criminal justice veteran, highly experienced in working with criminal offenders in a variety of institutional and non-institutional settings. Before pursuing a career in higher education, Dr. Pittaro worked in corrections administration; has served as the executive director of an outpatient drug and alcohol facility and as executive director of a drug and alcohol prevention agency. Dr. Pittaro has been teaching at the university level (online and on-campus) for the past 15 years while also serving internationally as an author, editor, presenter and subject matter expert. Dr. Pittaro holds a BS in Criminal Justice; an MPA in Public Administration; and a PhD in criminal justice. To contact the author, please email IPSauthor@apus.edu. For more articles featuring insight from industry experts, subscribe to In Public Safety's bi-monthly newsletter.
Shanna O'Connor received her Master of Science in Mental Health Counseling concentrating on Addictions counseling from Philadelphia College of Osteopathic Medicine in 2017. Since graduating, she has worked at a methadone clinic providing individual and group therapy from those suffering with an opiate addiction and dual diagnosis. She is currently working as a mental health specialist in the Lehigh Valley area. Shanna received her BS in Psychology from East Stroudsburg University with a Criminal Justice concentration in 2015. Shanna wishes to continue her education in a doctoral program, furthering her knowledge in addictions and forensic psychology.