Amtrak employee's radio call: 'We're on the ground'
In audio released from the call, a crew member tells a dispatcher what is going on while other members can be heard radioing for help
---
By EMS1 Staff
DUPONT, Wash. — An Amtrak crew member's radio call for help was released after the deadly train crash.
Inside Edition reported that Amtrak crew members could be heard radioing for help while another crew member spoke to a dispatcher.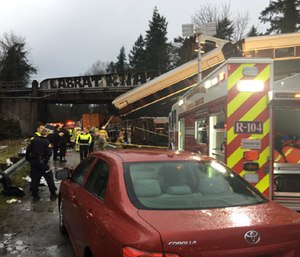 "Amtrak 501, emergency, emergency, emergency. We're on the ground. We are on the bridge on the freeway. We need EMS ASAP," a crew member can be heard saying.
"Hey guys, what happened?" the dispatcher asked.
"We were coming around the corner to take the bridge over I-5 there, right north in Nisqually, and we went on the ground," a crew member said.
The dispatcher then asked the crew member if anyone was hurt, to which he responded, "I am still figuring that out. We got cars everywhere and down onto the highway. As soon as I know exactly where all my train is, I'll let you know."