100 calls to 911 in minutes after Kan. earthquake delayed emergency services
Police said dozens of non-emergency calls poured in within 10 minutes of the 4.6 magnitude quake
---
Jason Tidd
The Wichita Eagle
RENO COUNTY, Kan. — More than 100 calls to 911 in Reno County in the 10 minutes following a 4.6 magnitude earthquake Sunday afternoon delayed emergency services from responding to people who needed help, law enforcement said.
The Kansas Geological Survey reported that the earthquake — tied for the second-strongest in the state in the past year — struck at around 1:08 p.m. about a mile west of South Hutchinson.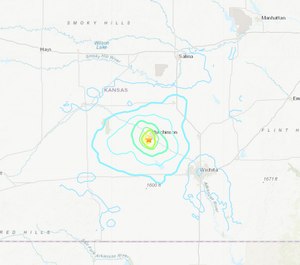 "Within ten minutes our 911 center received over a hundred calls," the Hutchinson Police Department said in a Facebook post. "Of those calls only a handful required emergency services to respond. We want to remind our citizens that during a major incident to not call 911 unless they need to report an emergency.
"By calling 911 to just talk about an earthquake tied up valuable resource for the people needing to call in to get emergency services to respond. During those ten minutes we did receive calls that needed attention and we are thankful they were able to get through. If you need to report an emergency, please call 911."
The police department said the non-emergency number for the Hutchinson Police Department is 620-694-2816 and the non-emergency number for dispatch is 620-694-2800.
"However calling the non emergency to just discuss a earthquake won't help the situation as those calls still reach people trying to deal with an emergency," police said.
Geologists ask those who felt the ground shake to report it online to the U.S. Geological Survey. A USGS map shows the quake was felt in Wichita, Dodge City, Hays, Kansas City, Oklahoma City, Tulsa, Lincoln and elsewhere.
Sunday's earthquake was the 50th quake recorded in Reno County since January 2019, according to Kansas Geological Survey data. All but two of the temblors were recorded within three miles of each other, centered in the same area as Sunday's tremors.
The earthquake struck as the Kansas Corporation Commission investigates the cause of a swarm of 17 earthquakes in five days in August in the same area of central Kansas. The regulatory agency's investigation is focused on the underground disposal of oilfield waste that's been blamed for quakes elsewhere in southern Kansas. Seismologists have ruled out fracking as a direct cause of the quakes, but the increased production it made possible generated millions of barrels of wastewater that are blamed for the increase in seismic activity since 2013.
At 4.6 magnitude, Sunday's earthquake is tied with one of the August quakes that prompted the investigation for the second-strongest earthquake in Kansas of the past year. The strongest was a 4.8 magnitude in Rooks County in June.
———
©2020 The Wichita Eagle (Wichita, Kan.)
McClatchy-Tribune News Service